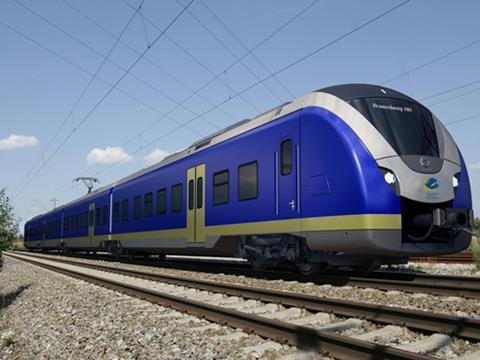 GERMANY: On December 18 Alstom announced contracts worth more than €100m to supply and maintain 20 Coradia Continental electric multiple-units, which from December 2015 are to be deployed on Elektronetz Niedersachsen Ost regional services from Hannover to Wolfsburg and Wolfsburg to Hildesheim via Braunschweig. There is an option for a further 13 units.
The Land of Niedersachsen is funding the order, which has been placed by the Regionalbahnfahrzeuge Großraum Braunschweig rolling stock procurement subsidiary of transport authority Zweckverband Großraum Braunschweig.
The four-car 160 km/h EMUs will each accommodate 450 passengers, and will feature wheelchair spaces along with handrails, signage, acoustic signals and lighting designed to assist passengers with reduced mobility and visual impairments. Movable steps will bridge gaps between the trains and platforms. The EMUs are to be equipped with the LZB signalling system, and regenerative braking is expected to return 30% of their energy needs to the grid.
The Alstom Train Life Service business in Braunschweig has been awarded a 20-year contract to maintain the fleet. This will be facilitated by automated health and fault reporting systems.