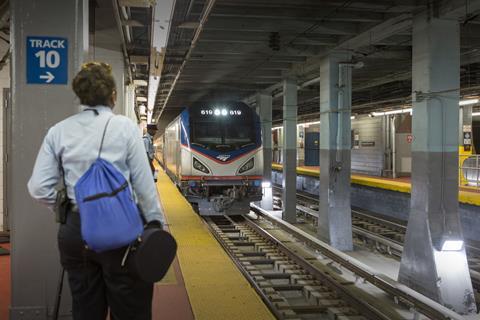 USA: Amtrak has unveiled proposals for the restoration of inter-city passenger trains between New York and Scranton, using a route which lost its regular service in 1970.
The national passenger operator has been working with the Pennsylvania Northeast Regional Railroad Authority on a two-year feasibility study, with a view to developing the service as part of the federally funded Corridor ID programme.
The service would utilise 100 km of existing freight railway between Scranton and the Delaware Water Gap now owned by PNRRA, plus 35 km of restored tracks on the 'Lackawanna Cutoff' between Delaware Water Gap and Andover, New Jersey, which is considered suitable for 177 km/h operation. From here, the trains would use existing NJ Transit and Amtrak tracks to reach New York City.
As well as an assessment of the investment required, the study looked at the potential economic impact and estimated ridership based on a sample timetable. The 'vision plan' envisages three trains each way per day, serving stations in Scranton, Mt Pocono, East Stroudsburg, Blairstown, Dover, Morristown, Montclair, Newark and New York City. End-to-end journey time is estimated at 2 h 50 min, which is considered competitive with car travel. Ridership is projected at around 470 000 passengers per year.
The report estimates the total cost of the project at around $500m, including between $100m and $175m for infrastructure improvements on the PNRRA-owned segment and $70m to $90m for the acquisition of suitable trains. If the project is accepted into the Corridor ID programme, federal funding to cover up to 80% of the estimated construction cost could be made available through the Infrastructure Investment & Jobs Act, leaving 20% to be raised locally.
Economic benefits are estimated at $84m per year from increased activity including both tourism and local business, $20m of passenger benefits such as being able to work on the train, and $7m in wider societal benefits including reduced traffic congestion, road accidents and pollution.
Subject to support and funding from the federal government and the completion of design and construction work by stakeholders including Pennsylvania Department of Transport, PNRRA and NJ Transit, Amtrak anticipates that services could begin running in 2028.
'Passenger rail service in and out of Scranton was discontinued in 1970, only one year before Amtrak was created', said CEO Stephen Gardner. 'Restoring and expanding this corridor with daily multi-frequency service would dramatically boost mobility and economic development for residents of Scranton and northeastern Pennsylvania, New Jersey, New York and the broader northeast region.'
'This study reinforces what we have advocated for decades — that rail passenger service to this region is a huge economic positive', added PNRRA President Larry Malski.