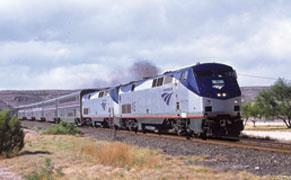 USA: Proposals to reinstate inter-city passenger services between New Orleans and Jacksonville are moving forward, with the operation of a special inspection train by Amtrak and the Southern Rail Commission on February 18-19 to examine the infrastructure along the Gulf Coast route.
The line had previously hosted Amtrak's Sunset Limited between Los Angeles and Miami, but this was cut back to New Orleans after the CSX right-of-way was damaged by Hurricane Katrina in August 2005. The commission, which brings together local authorities in Louisiana, Mississippi, Alabama and Florida, has long been campaigning for enhanced passenger services to connect the cities and towns along the Gulf Coast.
A recently-completed study, conducted for the commission by Amtrak, indicated that a service between Louisiana and Central Florida would attract between 138 300 and 153 900 passengers a year. It estimated the annual cost of running a daily train each way at $5·5m. The states would be expected to contribute to the cost under a 2008 law allowing local governments to award contracts for Amtrak to provide increased services on shorter routes.
Other options that were studied include operating two daily trips between New Orleans and Mobile, with a bus link from there to connect with existing Amtrak service at Jacksonville, or operating a daily New Orleans – Florida trip as an extension of another Amtrak long-distance route.
Hosted by Amtrak President & CEO Joe Boardman, the special train is carrying elected officials, industry representatives, community leaders, and federal stakeholders. The intention is both to examine the existing infrastructure and to better understand rail's potential contribution to economic, cultural and transport developments in the region. Stops are scheduled at Bay St Louis, Gulfport, Biloxi, and Pascagoula in Mississippi; Mobile and Atmore in Alabama and then Pensacola, Crestview, Chipley, Tallahassee, Madison, Lake City and Jacksonville in Florida.
'We want to work with community leaders and CSX', said Boardman. 'Additional regional economic development can come from shared infrastructure investments on a timeline to better connect the region to the rest of the country and more than 500 other Amtrak destinations.'
Announcing plans to form a special working group to develop the project, US Senator Roger Wicker (R-Miss) said 'passenger rail is an essential part of our national transportation network. Restoring this service along the coast could have a monumental impact on the region's economic development.'