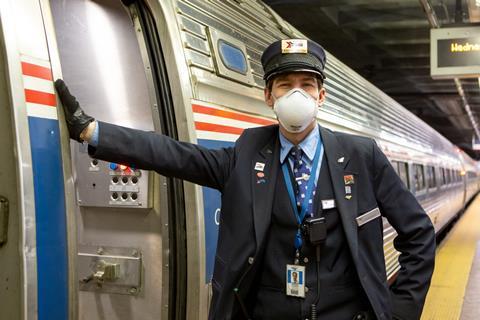 USA: Amtrak is to work with cleaning, health and household products manufacturer Reckitt Benckiser to strengthen its disinfection protocols for trains, stations and lounges.
RB is to supply disinfection equipment for use across high-touch and high-traffic areas, including products which Amtrak said were proven to be effective against the SARS-CoV2 virus that causes Covid-19.
The programme will launch at stations served by Northeast Corridor and Pacific Surfliner trains, before rolling out across the national passenger operator's network.
'We're excited to build on our industry-leading safe travel standards through this partnership', said Amtrak Executive Vice-President and Chief Safety Officer Steve Predmore on September 2. 'By coupling RB's products and expertise with the guidance of our full-time medical director, and public health and safety teams, travellers can feel a renewed sense of confidence and peace of mind aboard our trains and in our waiting areas.'