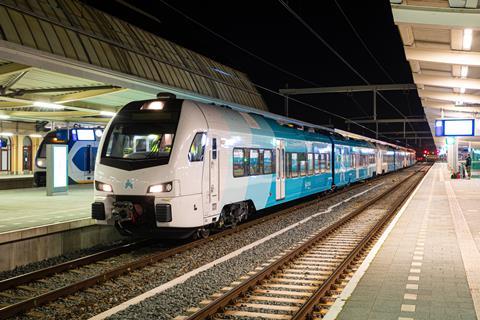 NETHERLANDS: Arriva has confirmed it will launch its first open access night train service from Maastricht to Amsterdam's Schiphol Airport with the December timetable change.
The operator ran an initial trial service on the night of October 28-29, departing from Maastricht at 01.01 and returning from Schiphol at 05.40. The journey time was around 2 h each way.
Regular weekly services from Maastricht to Schiphol Airport are due to begin on December 16. A second service from Groningen to Schiphol Airport is expected to start in January, following the reopening of the Hanze Line between Zwolle and Lelystad. Operating on Friday nights, the trains are intended to provide connections into early flight departures from Schiphol on the Saturday morning.
All tickets for the night trains will cost €10 for a single trip, regardless of the length of the journey.
Arriva believes that this will be the first open-access overnight passenger service in the Netherlands, following the opening up of the market through implementation of the EU's Fourth Railway Package. The DB subsidiary lodged an application with the competition authority Autoriteit Consument & Markt in May 2021 seeking rights to run three open access services on the core network, challenging the monopoly of incumbent NS.