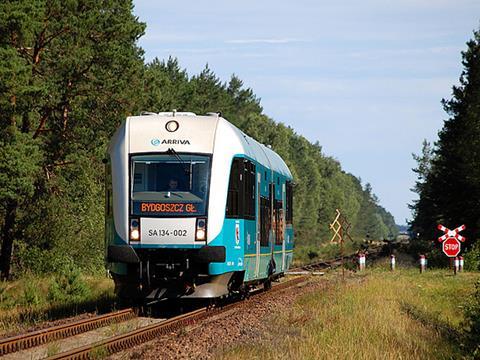 POLAND: Kujawsko-Pomorskie voivodship has awarded Arriva RP two contracts covering the provision of regional passenger services on around two-thirds of the electrified routes in the voivodship. Arriva RP already operates the non-electrified routes under a 10-year contract signed in 2009.
The latest contracts run for two years from the December 2013 timetable change. Arriva RP will be paid 10·38 złoty per train-km for services on the Torun - Kutno and Torun - Iława routes, and 11·82 złoty for Bydgoszcz - Tczew and Bydgoszcz - Wyrzysk Osiek services.
The rolling stock to be used has not been finalised. Arriva RP has sent a letter of intent to take on staff from incumbent PR, which will now operate just the Gniezno - Torun and Inowrocław - Bydgoszcz routes within the voivodship.