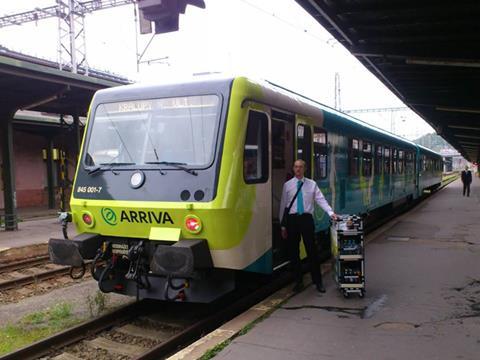 EUROPE: Arriva Vlaky has unveiled plans for a significant expansion of its long-distance cross-border trains between Praha in the Czech Republic and Trenčín in Slovakia, via Přerov, Uherské Hradiště and Vlárský Průsmyk. According to the company, the weekly service introduced on March 5 has proved very successful and some trains are now completely sold out.
It has submitted applications for train paths to both SŽDC and ŽSR to enable the provision of a daily services from the December timetable change. There would be two return trips on weekdays, departing Praha Hlavní at 08.19 and 14.19, and one at the weekend departing at 16.19. Arriva is also requesting paths for one return working from Praha to Český Krumlov and another from Praha to Domažlice.
Arriva uses a single refurbished two-car DMU 845.001 (ex-DB 628 246) for all its existing services. However, on July 11 the company started to deploy a Siemens Desiro Classic DMU leased from parent company DB on the weekday semi-fast service between Praha and Benešov. To support its expansion plans, Arriva expects to have 10 DMUs available in December.