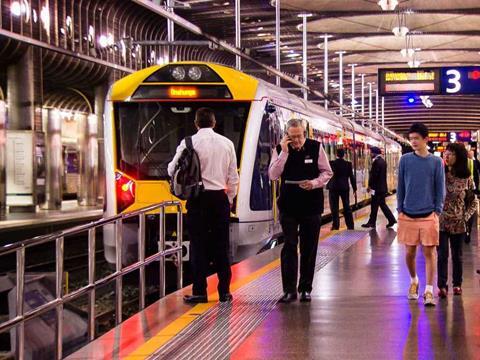 NEW ZEALAND: Auckland Transport's first electric trains began revenue operation on April 28, when operating concessionaire Trandev Auckland switched its half-hourly Southern Line service between Britomart and Onehunga from DMUs to EMUs.
The electrification was formally launched by Auckland Mayor Len Brown on April 27 with a ceremony at Britomart attended by Transport Minister Gerry Brownlee and Auckland Transport Chairman Dr Lester Levy. Around 5 000 local residents sampled a limited commemorative shuttle between Britomart and Newmarket.
Auckland Transport says 12 of the 57 three-car EMUs being built by CAF have now been delivered to New Zealand, of which seven are available for service; the remainder are due by the end of next year. As more units are commissioned, Eastern Line services to Manukau are expected to go electric in August, followed by Southern Line services to Pakekura in December and finally the Western Line to Swanson in mid-2015. The EMUs are initially running to the same timings as the DMUs and diesel loco-hauled trainsets that they are replacing, until a timetable change in September starts to exploit their superior performance.
The 25 kV 50 Hz electrification programme was launched in 2009. Civil engineering, electrification and resignalling has been managed by KiwiRail, which awarded an NZ$80m contract to a consortium of Hawkins Infrastructure and Laing O'Rourke in January 2010. Siemens Rail Automation (formerly Invensys Rail) supplied the Westrace interlockings and ETCS Level 1 for automatic train protection. Auckland Transport took responsibility for the procurement of the new EMUs from CAF and Mitsubishi under an NZ$640m deal signed in October 2011, which includes a purpose-built depot at Wiri where CAF will maintain the trains.
Each EMU has seating for 232 passengers plus a low-floor section in the central trailer with tip-up longitudinal seats to accommodate wheelchairs, prams or bikes. This vehicle is fitted with automatic ramps at each doorway, controlled by the train manager.
Brown said 'now is the time for Aucklanders to get on board, and I know they absolutely will. Recently we hit the 11 million mark for annual trips, and given these trains and agreement on the City Rail Link, our aim of 20 million trips is now a very realistic target in the coming years.'