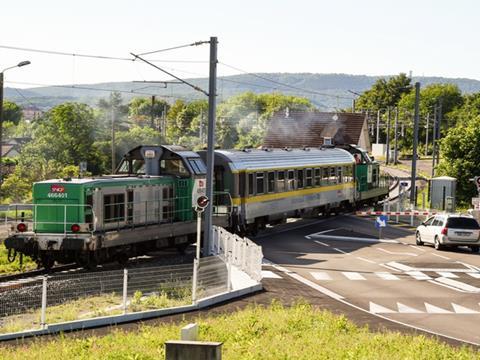 EUROPE: The 22 km missing link between Belfort in eastern France and Delle on the border with Switzerland is to reopen for passenger trains with the European timetable change on December 9, following a formal opening ceremony on December 6 to be attended by French Transport Minister Elisabeth Borne and Peter Füglistaler from the Swiss Federal Office for Transport.
Although located on French territory, Delle has only been served by SBB trains from Delémont in canton Jura since it reopened in December 2006. Through trains between Delémont and Belfort last ran in 1992. It had been anticipated when Delle reopened that services to Belfort could be reintroduced by 2012, but it was not until August 2014 that the Swiss and French transport ministers signed an international agreement authorising the work.
Rehabilitation began the following September, co-ordinated by partners including the région of Bourgogne Franche-Comté, canton Jura and SNCF Réseau. The €110·5m cost has been co-funded by the regional and national governments on both sides of the border as well as the European Regional Development Fund.
Infrastructure works included track renewals with new rails and monobloc concrete sleepers, 25 kV 50 Hz electrification and resignalling. Six new stations have been built, while those at Delle, Meroux and Granvillars have been refurbished and enhanced to comply with accessibility regulations. Two new bridges have been built, and eight level crossings abolished; a further 12 crossings have been updated with enhanced obstacle detection and warning systems. The maximum line speed will be 110 km/h.
Interchange with high speed services will be available where the reopened line serves Belfort-Montbéliard TGV station on LGV Rhin-Rhône, close to Meroux.
SNCF Mobilités plans to run six local passenger trains each way per day between Belfort Ville and Delle, as well as a shuttle of 10 trains per day between Belfort Ville and the TGV interchange. SBB is to operate 10 cross-border TER services each way linking Biel/Bienne with Belfort-Montbéliard TGV in 1 h 43 min.
A detailed feature on Europe's missing cross-border rail links appeared in the December 2018 issue of Railway Gazette International, available to subscribers via our digital archive.