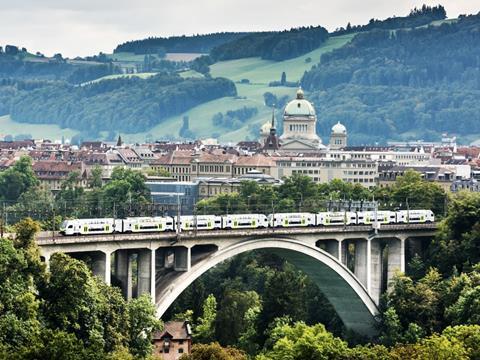 SWITZERLAND: Swiss Federal Railways and BLS AG have reached 'an amicable solution' to share the operation of long-distance services, the Federal Ministry of Environment, Transport, Energy & Communication announced on August 22. This will enable BLS to re-enter the long-distance passenger market with effect from the December 2019 timetable change.
The agreement follows discussions between the two railways' CEOs and mediation by representatives from the Federal Council and canton Bern, aimed at solving the stand-off which arose when the Federal Office for Transport decided to split the national long-distance concession and awarded two inter-regional routes to BLS. SBB immediately lodged a legal challenge against that decision with the Federal Administrative Court; this has been on hold since July to enable the talks and will now be formally withdrawn.
According to the ministry, BLS has agreed to waive its separate concession, so that SBB can retain an 'integral' licence to run the national long-distance network for the next 10 years. However, BLS will still operate the two routes that it had been allocated by BAV, 'with full ownership of its own rolling stock and its own train crew' but using SBB's operating rights.
BLS will operate RegioExpress services on the Bern – Biel route from December 2019 as planned, but the transfer of the Bern – Burgdorf – Olten service has been postponed until December 2020. At that point, BLS will also introduce hourly RegioExpress trains on the Bern – La Chaux-de-Fonds route, which will switch from the current locally-funded regional traffic concession to the long-distance network, with SBB contributing to support the enhanced service. This route is expected to transfer to SBB 'in the medium-term', as part of plans to improve connections between La Chaux-de-Fonds and other towns in western Switzerland.
Welcoming the signing of the co-operation contract between the two railways, which avoids the prospect of lengthy litigation, Federal Councillor Simonetta Sommaruga said 'the joint solution strengthens public transport in Switzerland', adding that canton Bern, as majority shareholder in BLS was also pleased with the agreement. 'The re-entry of BLS into long-distance traffic is a great opportunity, which strengthens public transport in canton Bern and the neighbouring cantons', she explained.