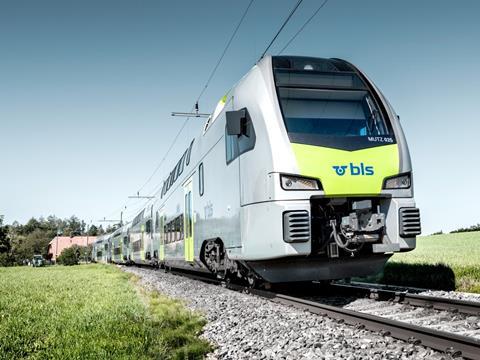 SWITZERLAND: Regional operator BLS has accepted the Federal Office for Transport's June 12 ruling that it will be granted only two Interregio routes under the long-distance operating concession due to commence in December 2019. It expects to place orders in the next few weeks for eight MUTZ double-deck EMUs to operate the Bern – Biel and Bern – Burgdorf – Olten services. These will be acquired from Stadler under an option in a 2012 contract for S-Bahn stock.
On June 21, BLS confirmed that it would not mount a challenge against BAV's ruling, as this could lead to an uncertain legal situation that could delay the start of operations on its two routes. However, the operator emphasised that it would not be able to implement its plans for improved services that included on-board ticket sales, as operating two rather than five routes would not generate enough revenue. BLS had originally applied to run services from Basel to Brig and Interlaken Ost, as well as Bern to Neuchâtel and La Chaux-de-Fonds.
BLS nevertheless welcomed the government's initiative to open up the market for the long-distance passenger business and noted that the model can be developed further. It committed to submit bids to run additional routes when the concession next came up for renewal.
Supporting BAV's intention to review the tendering process, BLS called for a notice period of at least five years ahead of the next concession award to allow time to acquire rolling stock. It also demanded equal treatment in the financing of new trains; at the moment non-federal railways incur higher financing costs than national operator SBB which can avail itself of federal loans. The basis of the tendering process should also be better specified, with clear quality criteria set for individual routes. In addition, the bid evaluation criteria should be made available at an early stage in the tendering process.