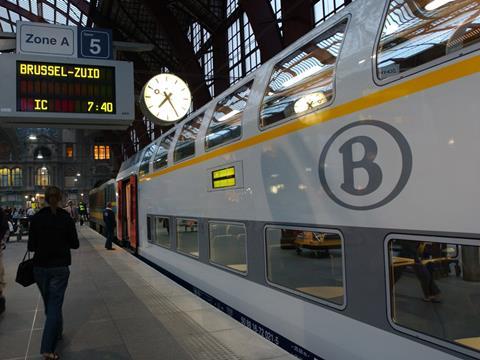 BELGIUM: A consortium of Bombardier and Alstom has been selected as the sole shortlisted bidder for a framework contract to supply up to 1 000 double-deck coaches at an estimated cost of €1bn, federal Minister of Mobility & Transport Jacqueline Galant told parliament on January 23.
Scheduled for delivery between 2017 and 2025, the new vehicles are intended to replace M4 coaches and Class 27 locomotives dating from the early 1980s, as well as 44 four-car EMUs of classes AM75 to 77. Replacing single-deck stock with double-deck vehicles is intended to increase capacity to cope with growing demand.
At this stage, Galant said, no contract has been signed, as another bidder – believed to be Stadler – has lodged a protest with the country's supreme court, the Council of State. There are also questions over the funding, with SNCB expected to deliver substantial savings in the five-year budget period to 2019.
Following the announcement, concerns have been raised about the future of Bombardier's plant in Brugge, which is reportedly running out of work. The plant's Managing Director Johan van den Bussche told local media that the assembly of 200 Desiro EMUs for SNCB under subcontract to Siemens is due to be completed by mid-2015, as is the last of 220 Flexity Outlook trams for Brussels.
Although the plant has some finishing work on the 48 Flexity 2 trams ordered by De Lijn, which includes an option for a further 40, this is not enough to occupy the current workforce of around 700 people. Van den Bussche said around 150 would be transferred to the Crespin plant in northern France, and a similar number could be 'loaned' to local companies.
Bombardier is one of five prequalified bidders for a further order of 146 trams for De Lijn, along with CAF, Pesa, Siemens/Newag, and Škoda. There is also the prospect of Brussels STIB ordering more cars to replace the Class 7700 and 7900 high-floor trams dating from the 1970s. However, unlike the Cityrunner-derived Outlook cars with their bolted structure, the Flexity 2 has a welded steel bodyshell for which an automated assembly plant has been installed at Bautzen.
Bombardier's centre of excellence for double-deck vehicles is at Görlitz, while its bogies come from Siegen. Local hopes are being pinned on a repeat of the formula adopted for SNCB's M6 double-deck coaches, which were assembled at Brugge between 1999 and 2011 using parts supplied by Alstom.