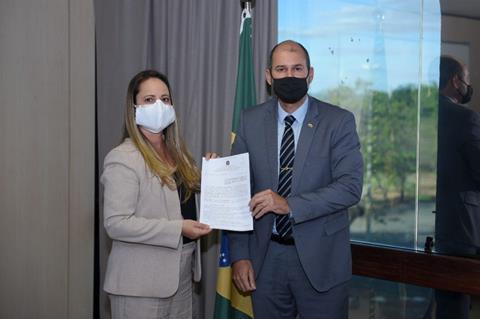 BRAZIL: An agreement intended to pave the way for the eventual introduction of more passenger services on the national rail network has been signed by the ANPTrilhos association of passenger operators and the Ministry of Infrastructure.
The technical co-operation agreement was signed on September 14 by ANPTrilhos Executive Director Roberta Marchesi and National Secretary for Land Transport Marcello Costa.
Marchesi described the agreement as 'a milestone for passenger rail transport in Brazil'. She was 'sure that this national policy will encourage investment in inter-regional connections, helping to stimulate the entire economic chain of this segment in Brazil. We are very happy to be able to contribute and be part of that moment.'
Costa noted that the federal government had made progress in renewing freight railway concessions and wanted to move forward with passenger transport as well. He pointed out that more than 10 000 km of railway was idle or barely used for freight services. 'This network may eventually be used to transport passengers, including on tourist routes. In this way, we are preparing a robust and modern plan to identify the main rail corridors and make their operation economically viable. We are planning a state policy to generate benefits for society', he said.
The agreement provides for the sharing of information and for publicising the partnership between ANPTrilhos and the ministry. Technical support will be made available for preparation of documents needed to formulate a National Passenger Rail Transport Policy and a Passenger Rail Transport Development Plan.
Apart from metro and commuter operations, the only long-distance passenger services in Brazil are operated by Vale between São Luis and Parauapebas on the Carajás Railroad and between Belo Horizonte and Vitória on the Vitória – Minas Railroad. Around 330 000 people used the Carajás line service in 2019.
Both services had been suspended since March because of the Covid-19 pandemic, but the Vitória – Minas service resumed in August and the Carajás trains on September 1. Only advance purchase tickets are available and travel is subject to Covid-19 social distancing rules.