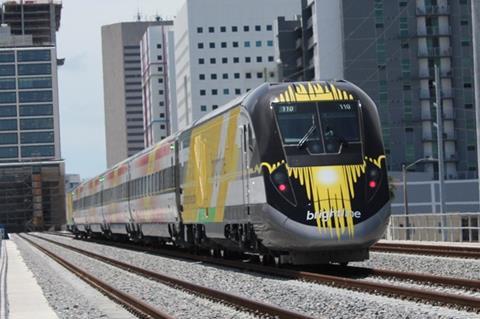 USA: Private sector passenger train operator Virgin Trains USA Florida LLC is to drop its use of the Virgin brand, as a result of its parent company Virgin Trains USA LLC terminating its licensing agreement with Virgin Enterprises Ltd.
The parent company delivered a termination notice on July 29, but the operator noted that Virgin had disputed the validity of the notice.
The company intends to change its name to Brightline Trains following the expiration of the applicable notice period under its senior loan agreement.
'Virgin has no remaining affiliation with us, our parent or its affiliate (whether through equity ownership or otherwise)', the company said in its Monthly Revenue & Ridership Report for July 2020.
The trademark licensing agreement for the launch of Virgin Trains USA had been announced by Virgin Group and Brightline on November 16. At the time Brightline said Virgin Group was 'one of the world's most recognisable brands in travel and hospitality' and the partnership would allow it to leverage Virgin's 'industry-leading expertise and customer experience' to establish a 'powerful' brand.
The operator also said 'substantial progress' had been made in negotiations with the Miami Dade Board of County Commissioners for the implementation of a new commuter service from Miami to Aventura, and it expects the final agreement to include 'a meaningful access fee payment' for use of its corridor.