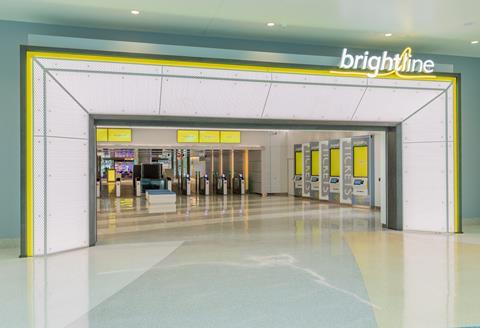 USA: Florida inter-city operator Brightline has formally opened its station at Orlando International Airport, ready for the extension of its Miami – West Palm Beach services to Orlando 'in the summer'.
The service expansion follows upgrading and double-tracking of the existing Florida East Coast Railway between West Palm Beach and Cocoa for 125 km/h mixed-traffic operation and the completion of a 60 km passenger-only line between Cocoa and Orlando International Airport suitable for 200 km/h.
Brightline announced on April 20 that ticket sales would begin in May, with one-way fares between Miami and Orlando starting from $79 for Smart class and $149 for Premium. Family tickets for four people will be available from $199.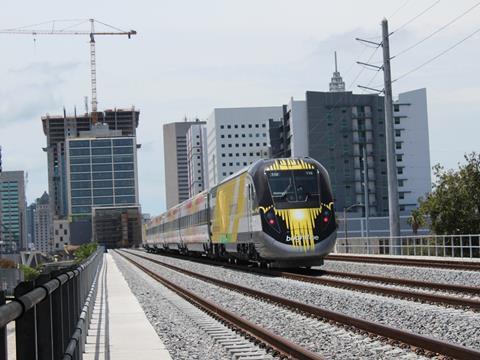 The private sector operator initially expects to run 16 trains each way per day, offering a broadly hourly service. On weekdays, trains will leave Orlando for Miami from 05.00 to 20.50, while northbound services will depart from Miami between 06.50 and 21.45. The weekend pattern will be slightly different. Non-stop trains will have an end-to-end journey time of 2 h 59 min, while stopping services calling at West Palm Beach, Boca Raton, Fort Lauderdale and Aventura will take 3 h 30 min.
Gateway to Florida
Occupying an area of 3 470 m2, the Brightline station at Orlando Airport is located in a 7 432 m2 facility adjacent to Terminal C, which was purpose-built by the airport authority and completed in November 2017.
The 305 m long platforms are able to accommodate push-pull trains formed of two locomotives and 10 intermediate coaches. The station is served by the airport peoplemover, and has a dedicated multi-story car park for Brightline passengers.
The station was designed by Miami-based Bigtime Design Studios. Tickets will be sold from a booking office, as well as vending machines. Wi-fi is provided throughout the terminal, and there are power sockets at each seat in the waiting areas. There is also a children's play zone.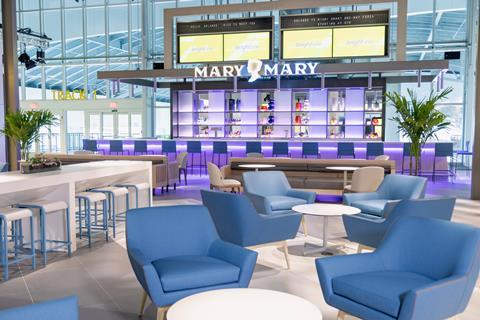 'This station will be a gateway for visitors and travellers throughout Florida, but beyond that, it is indicative of how we set out to transform travel in a way that hasn't been done in more than a century', explained Brightline CEO Mike Reininger.
'As a lifelong Central Floridian, it made me proud to see the advancement of our community today as our true multimodal hub becomes a reality', said Orlando Mayor Buddy Dyer. 'We celebrate the Brightline Orlando station and soon-to-come train service to our international airport.'