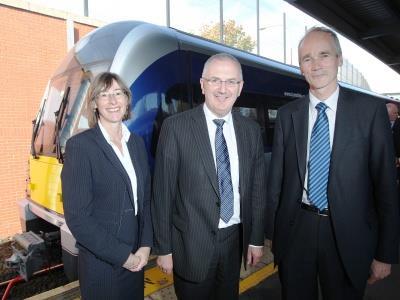 UK: Northern Ireland's Transport Minister Danny Kennedy joined the celebrations on October 3 to mark the entry into service on the Belfast – Larne route of the first of Translink's new Class 4000 DMUs.
The 20 three-car units are being supplied by CAF under the operator's £150m New Trains Programme, which includes some platform extension works and the construction of a new train maintenance depot at Adelaide.
Speaking at Belfast Central station, Kennedy said 'when all 20 new trains are introduced into service, passengers will experience a step-change in service reliability and improved accessibility. Importantly, these new trains will replace all the old fleet currently operating on the network, delivering an overall improved quality of railway services.'
The first units were delivered earlier this year, and have since been undergoing commissioning trials; Translink NI Railways hopes to have all 20 in service by the end of 2012.
Translink Chairman John Trethowan said the C4K units would 'help us in our commitment to providing our passengers with modern, reliable and good value travel solutions'. Since the earlier Class 3000 DMUs began entering traffic in 2005, supported by a programme of service enhancements, he said Translink had seen 'over 60% growth in passenger numbers in the last 10 years, culminating in a record 10·4 million journeys last year'.
Noting that the launch of the new trains was 'not an end in itself', the minister emphasised that 'while I have a limited budget, I am committed to providing a high quality rail service which promotes a sustainable and attractive alternative to the private car.'