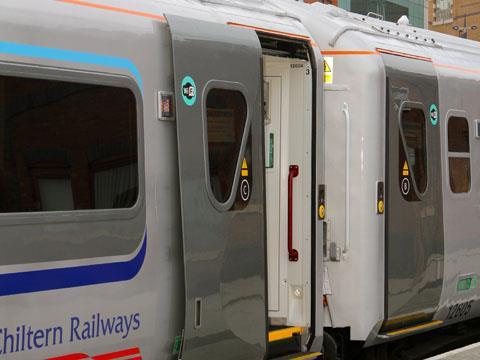 UK: On May 28 Chiltern Railways put into service the first of four rakes of Mk III coaches that are being heavily refurbished and equipped with sliding plug doors.
Deployed on London Marylebone - Birmingham Moor Street services, the Mk IIIs are marshalled between a Class 67 locomotive and a Driving Van Trailer equipped with an auxiliary generator.
Next to each DVT is a GFW car inherited from the Wrexham & Shropshire fleet which has 30 seats in 1+2 formation. This is the 'Business Zone' with a small buffet counter, and a supplement is collected on board for use of these seats. The other four cars have 2+2 seating but with 72 seats in the two TSO cars and only 69 seats in the two TSOL cars equipped with an accessible lavatory.
DB Regio awarded a contract to Wabtec Rail Ltd of Doncaster to comprehensively refurbish a total of 20 Mk III cars. The aim is to have all four rakes in service by December.
Perhaps the most difficult task was to install the powered doors, with both ends of each car body removed and rebuilt to produce a larger vestibule with tracks for the sliding plug doors. Rail Door Solutions supplied the door systems, similar to those installed in the Siemens Class 444 Desiro EMUs for South West Trains.
Retention toilets compliant with the Persons with Reduced Mobility TSI have been installed. LED interior lighting has been installed throughout the TSOL cars and in all the vestibules, and there is a power socket available at each seat.
'This really does prove that you can deliver a first class service utilising older rolling stock', said Chiltern Engineering Director Kate Marjoribanks. 'The new power doors and additional features allow us to increase capacity and at the same time meet the needs of our passengers'.
Railway Gazette International was told that the next steps were likely to be adding a sixth car to each rake, and then producing a fifth rake to provide heavy maintenance cover.