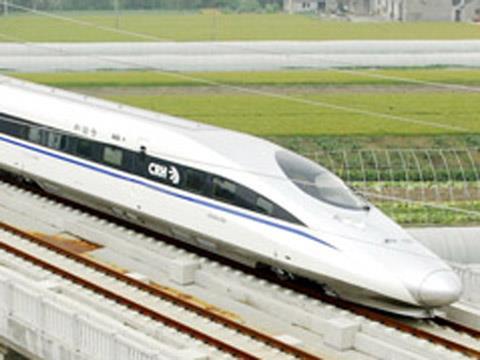 CHINA: A new Chinese record speed of 486 km/h was established on December 3 during trial running on a section of the Beijing – Shanghai high speed line between Zaozhuang in Shandong province and Bengbu in Anhui.
Xinhua News Agency claimed that this is the fastest speed recorded by an unmodified commercial trainset, noting that the five-car TGV Duplex formation which set the world record of 574·8 km/h in 2007 was heavily modified.
The 1 318 km Beijing – Shanghai line is officially scheduled to open in 2012, although following a ceremony at Bengbu in November to mark the completion of tracklaying the Ministry of Railways suggested that the opening would be brought forward to October 2011.
China now has the world's longest high speed rail network; it is expected to reach 13 000 route-km by 2012 and 16 000 km by 2020. At the same time, the country has been investing heavily to absorb high speed rail technology from around the world.
With world experts gathering in Beijing for the UIC Highspeed congress on December 6 – 9, the Ministry of Railways is keen to show how far China's high speed sector has advanced; following the run on December 3 railway officials suggested that the next step would be to break the 500 km/h barrier.
Read our special review of high speed developments in the December 2010 issue of Railway Gazette International.
In an exclusive feature article, MoR Chief Engineer He Huawu describes the challenges of building the 350 km/h Wuhan - Guangzhou Passenger-Dedicated Line.
Duan Li-Ren and Dennis Li look at the transformation of the Chinese rail network, and the country's strategy for developing high speed expertise through technology transfer.
Japan's Tohoku Shinkansen extension to Shin-Aomori opens this month, followed by the second stage of the Kyushu Shinkansen in March.
South Korea's ambitious high speed X network takes shape with the opening of the Daegu – Busan section on November 1.
To ensure that you see this issue, subscribe today