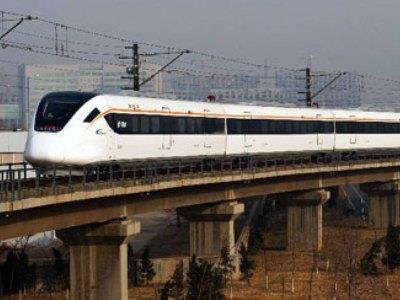 CHINA: A new design of 200 km/h EMU designed for short-distance inter-city operations has been rolled out by CSR Sifang, and is expected to enter service on routes in the Pearl River Delta area of southern China during 2013.
Officially designated as class CRH6, and branded 'Cinova', the new EMU design is intended to meet the rapidly-increasing demand for intra-regional rail transport in China's growing metropolitan conurbations. As such the new platform combines some of the characteristics of high speed EMUs with the high capacity of suburban and metro trainsets.
Development has been led by CSR Sifang in close collaboration with CSR Puzhen, CSR Zhuzhou and CSR Qishuyuan. Intended to operate on routes with frequent stops and large numbers of relatively short-distance passengers, the units have been designed for high capacity and energy-efficient operation. Each eight-car Cinova has seats for 557 passengers and a maximum capacity of 1 448.
Performance has also been enhanced; according to CSR Sifang a CRH6 set will be able to accelerate 25% faster than conventional EMUs, and brake in a distance 22% shorter, thanks to a17% stronger braking rate.
The manufacture expects to continue developing the Cinova family in the coming years, building on its standard platform to develop EMU variants targeted at different groups of end users.