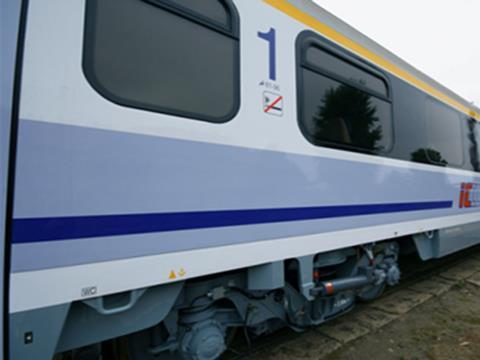 POLAND: PKP Intercity is expected to confirm a contract shortly for FPS to supply 20 long distance passenger coaches for Warszawa - Poznan - Szczecin services. Valued at 148 million złoty, the deal covers eight first class, 10 second-class and two restaurant cars, specifying air-conditioned vehicles suitable for 200 km/h operation.
Several manufacturers had expressed interest in the tender, but when the bids were opened last month the railway only received one offer. This was submitted by FPS and PTS, which are both subsidiaries of the government's industrial development agency ARP.
Industry insiders suggest that the prospective bidders soon spotted that FPS had already built 20 coaches to the exact specifications during 2012, as a job creation project. Funded by PTS, the vehicles had even been painted in PKP Intercity livery. So although the railway was obliged to go out to tender under EU procurement rules, the other suppliers felt that the outcome was likely to be a foregone conclusion, and decided it was not worth bidding.