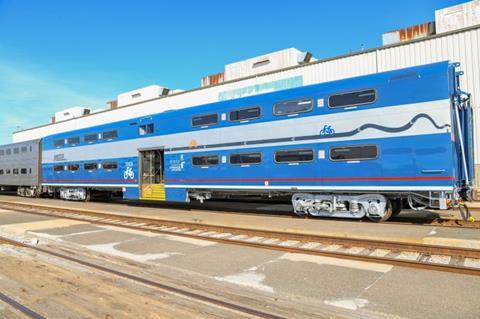 USA: Chicago commuter rail operator Metra has extended its Bike Car programme, with the introduction of coaches modified to carry bicycles on two more lines and further routes set to follow.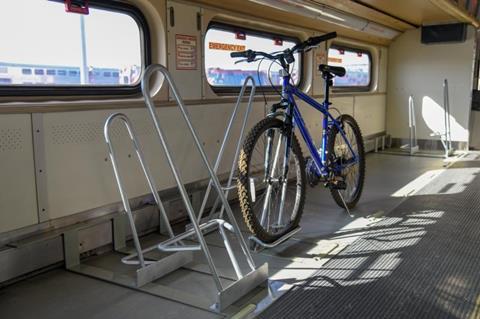 Two coaches have been modified for use on the Rock Island Line and one on the BNSF Line. The removal of 24 two-passenger seats from half of the lower level of Pullman-built gallery cars dating from the late 1960s has provided space to carry 16 bicycles per vehicle instead of the usual five, with seats on the upper level enabling passengers to sit within view of their bicycle. The Bike Cars have a blue and grey livery and large white logo for easy identification, and the trains where they operate are highlighted in the timetables.
Expansion of the programme builds on the success of Metra's first Bike Car which was launched on the Milwaukee District North Line in November 2020 and joined by a second in December. Bike Cars are to be deployed on the Union Pacific and Metra Electric lines in the coming weeks.
'The Bike Cars we introduced late last year have been well-received by the cycling community, encouraging us to move forward and expand the amenity to other lines', said Metra CEO & Executive Director Jim Derwinski on May 13. 'The expanded availability of Bike Cars will make the region more accessible and encourage cyclists to explore the trails and communities along our rail lines. And, of course, this effort also highlights how Metra and cycling go together as green transportation options that reduce our carbon footprint and aid the environment.'