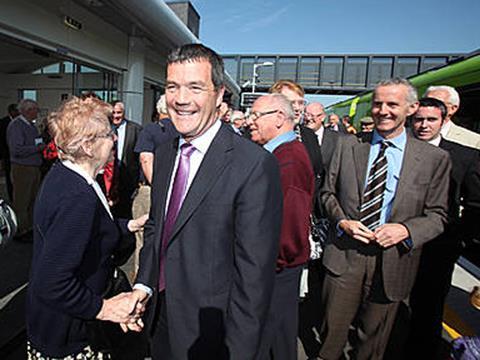 IRELAND: On September 3, Iarnród Éireann operated the first scheduled passenger services to Dunboyne since 1947 with the opening of the 7∙5 km double-track line from Clonsilla to M3 Parkway.
Representing an investment of €160m under the Transport 21 investment programme, the project marks the first phase of a project to reopen the railway to Navan, which closed in 1963.

Providing 1 200 spaces, the largest park and ride facility in Ireland has been built next to a motorway at M3 Parkway on the edge of Dunboyne, whilst a further 300 spaces are available at Dunboyne station. However, another intermediate station at Hansfield will not open until local property developers have built an access road.

Services operate at a basic 30 min frequency, terminating at Dublin's Docklands station on weekdays and at Dublin Connolly at weekends. The fastest journey time from M3 Parkway to Dublin Docklands is 31 min.

Design work for the second phase is underway. This comprises a 34 km alignment from M3 Parkway to a terminus on the northern edge of Navan with three intermediate stations at Dunshaughlin, Kilmessan and Navan town centre. IÉ expects to lodge a Railway Works order in May 2011, paving the way for civil works to begin shortly afterwards.