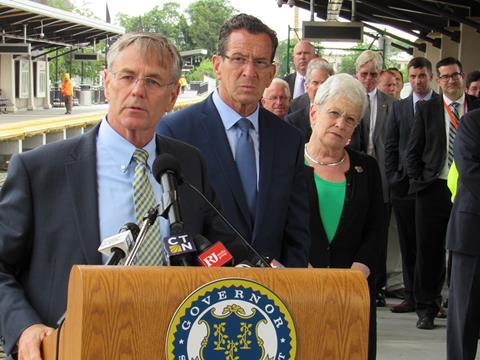 USA: Connecticut Department of Transportation has awarded a joint venture of TransitAmerica Services and Alternate Concepts a $45m contract to operate CTrail Hartford Line commuter services between New Haven, Hartford and Springfield for five years from the expected launch in May 2018.
TASI/ACI will be responsible for operating the trains, customer service and maintaining the stations and parking facilities. Line owner Amtrak will remain responsible for infrastructure maintenance, train dispatching and security on the 100 km route, and its existing service will not be altered.
There will be 17 weekday trains each way on the New Haven – Hartford section of the route, with 12 continuing to Springfield. On weekends there will be 13 New Haven – Hartford services, with nine running to Springfield.
There will be connections to Metro-North, Shoreline East and Amtrak Acela services on both the New Haven Line to New York and the Northeast Corridor to New London and Boston, as well as to the Bradley Airport Flyer bus and CTfastrak bus rapid transit.
'With modern stations, new amenities and faster and more frequent trains, our goal is to not only expand travel options and link communities and markets along the corridor and beyond but do so while enhancing passenger experience and providing high-quality customer service', said CTDOT Commissioner James P Redeker on July 24. 'We have a good partner in Amtrak and are looking forward to adding a new partner to the mix who has a substantial background in providing national and international rail service operations, including extensive experience with new service start-ups.'