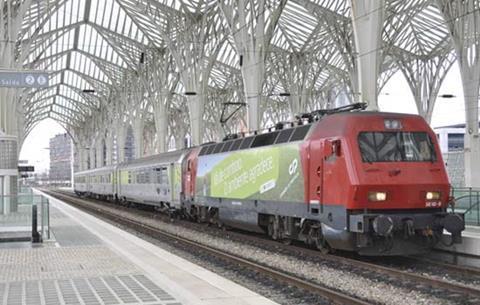 PORTUGAL: State-owned train operator Comboios de Portugal has finally signed its first contract to run passenger services on the national rail network.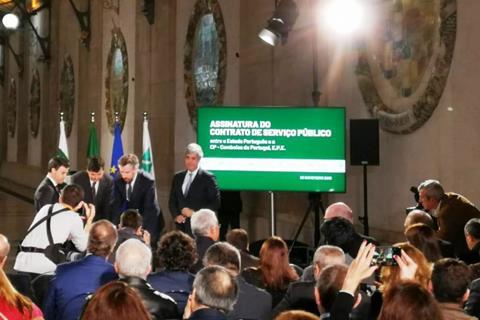 The government had announced in January that it intended to award CP a public service contract to operate domestic passenger services, in line with the provisions of the EU's Fourth Railway Package. However, the process had been dragging on, and it was not until November 28 that the contract was formally signed in a ceremony at Lisboa's Rossio station, attended by Prime Minister António Costa, Minister of State for Finance Mário Centeno, Minister of Infrastructure & Housin Pedro Nuno Santos, Secretary of State for Infrastructure, Jorge Delgado, Infraestruturas de Portugal Chairman António Laranjo and CP President Nuno Freitas.
Covering all urban, regional and inter-city services except the premium Alfa Pendular expresses, the contract runs from 2020 to 2030, and includes a provision for extension to 2035. It sets out formal obligations on CP, regulating the tariffs which can be charged and determining the service guarantees given to passengers. The agreement sets out the level of compensation payable by the government to support non-commercial services, and specifies the operational indicators that will be used to measure the quality of service. Freitas says the operator's short-term objectives must be to improve punctuality, to reduce the number of train cancellations and to improve passenger comfort.
According to local media, CP had been operating without any formal support for the past five years. Under the terms of the new contract, the amount payable to CP will in future be determined annually; a figure of €90m has been set for 2020.
CP has committed to spend €45m over four years on much-needed rolling stock refurbishment, starting with eight four-car EMUs for Lisboa suburban services. However, the contract does not provide the €168m which CP needs to fund the 22 new regional trains for which tendering is already underway; delivery of these is envisaged for 2023-24.
The ageing fleet poses a major challenge for CP. It has not bought any new rolling stock to operate regional services for 40 years, and its newest trains are the EMUs acquired in 2001 to work the Porto suburban network. Speaking at the recent Portuguese Railway Summit hosted at the IP headquarters in Almada, Freitas predicted that 'over the next 20 years, CP needs 200 to 250 new multiple-units'.