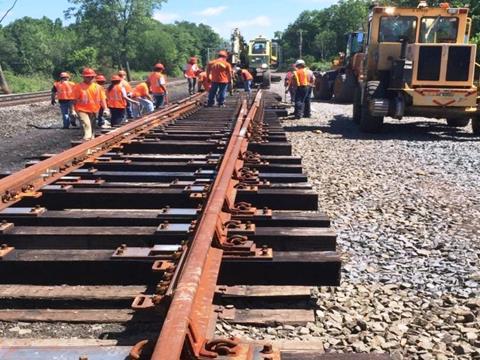 USA: Enhanced commuter rail services will start running between New Haven, Hartford and Springfield in January 2018, Connecticut Governor Dannel Malloy confirmed on July 6, following a visit to see station construction works at Wallingford.
The state and federal governments are investing $640m to develop the CTrail commuter service along the Interstate 91 corridor, which will connect at New Haven with Metro-North services to and from New York. The 100 km Amtrak-owned line is currently served by six inter-city trains each way per day.
Work began in 2011 to upgrade and partially double-track the route, and build four new stations to augment the existing eight. At that stage it was hoped that the commuter trains would be running by 2016. However, construction was delayed by cost over-run problems in 2014, and last year Connecticut Department of Transportation agreed to provide additional funding.
According to Malloy, more than 50% of the track upgrading has now been completed, along with 80% of work for the new stations and platforms. The laying of 16@nbsp;km of second track between North Haven and Meriden is expected to get underway later this year.
Having issued a request for qualifications from potential operators in 2014, CTDoT issued Request for Proposals to shortlisted bidders on April 1 and expects to select a preferred bidder by the end of this year. Commissioner James Redeker said the service provider would be responsible for operating the trains and maintaining the stations, while Amtrak will retain responsibility for infrastructure maintenance, signalling and dispatching.
The project will see the number of daily trains increased to 17 each way between New Haven and Hartford, and 12 between Hartford and Springfield. 'We expect ridership to more than double from 300 000 to 750 000 commuters a year', said Malloy. The long-term objective is to operate 25 trains each way, carrying more than 1 million passengers/year, but this would be dependent on further enhancements north of Hartford which are not currently funded.
Malloy said towns along the route were 'already planning on development that will generate more jobs and new homes for Connecticut residents', adding that the state was 'looking forward to working with communities on transit-oriented development along the route'. Last September CTDoT was awarded $700 000 from the Federal Transit Administration's Transit-Oriented Development Planning Pilot Program to facilitate projects around four new and two relocated stations.