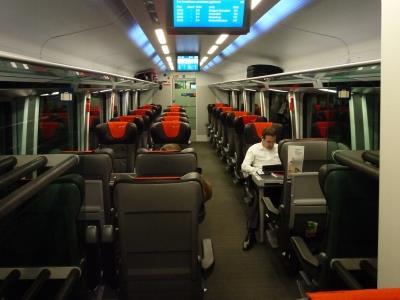 CZECH REPUBLIC: State-owned operator ČD finally signed a €200m deal with Austrian Federal Railways and Siemens Mobility on September 30 under which it will acquire 16 Viaggio Comfort (Railjet) push-pull trainsets using an option on ÖBB's original contract with Siemens which was no longer required by the Austrians.
Announced in mid-June, the deal had been delayed by three months following a legal challenge from Skoda Transportation, which questioned the deal's transparency. Skoda also claimed it was capable of delivering cheaper trains of comparable quality, although it has nothing in its product portfolio at present. On August 8 Skoda won a temporary injunction from Czech anti-monopoly authority ÚOHS to prevent ČD from signing the contract, but following a further hearing this injunction was dismissed on September 23, when ÚOHS ruled that the purchase would not break Czech law.
The agreement was signed on the final day when the already-extended option between Siemens and ÖBB had been due to expire. Delivery of the trains is now expected to start at the end of 2012 and will continue until 2014. ČD will use several sources of finance to fund the deal, including issuing bonds and the sale of disposable assets. ČD believes that the new trainsets, bought at a very advantageous price, will strengthen its position in the central European rail passenger market.
The 230 km/h trainsets are to be deployed first on EuroCity international services on the Hamburg – Berlin – Praha – Wien – Graz axis, bringing a much higher level of comfort for domestic passengers on the Ústí nad Labem – Praha - Brno route. They will be hauled by ČD's Class 380 multi-voltage electric locos, which are currently being supplied by Skoda. However, the loco deliveries are nearly three years behind schedule, and ČD had threatened to revoke the contract in the light of the dispute over the Railjets. ČD has also announced its intention to purchase 10 new multi-voltage electric locomotives capable of 230 km/h operation.
ČD currently has a total of 641 coaches available for its international services, of which only 56 are less than 10 years old. The majority are between 20 and 30 years old, but 158 vehicles have been in service for more than 30 years.