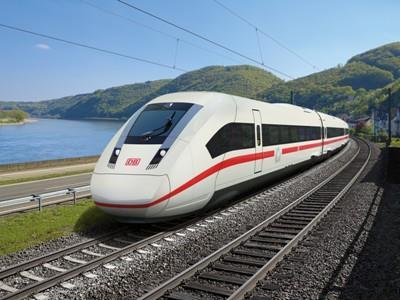 GERMANY: A multi-billion euro contract for the supply of up to 300 high-speed trains was signed by DB Chief Executive Dr Rüdiger Grübe and Siemens AG CEO Peter Löscher in a ceremony on May 9. The event took place at DB's Potsdam training centre – the former Kaiserbahnhof – and was attended by Federal Transport Minister Peter Ramsauer.
The 8 000-page framework contract envisages a firm order for 130 ICx trainsets which will be confirmed 'immediately', plus a further 90 sets to follow; the order value for the 220-train deal is put at 'around €6bn'. DB also has an option to order another 80 sets 'at any time' during the validity of the framework contract, which runs to 2030.
DB says the ICx will form the backbone of its long-distance passenger fleet in the future, with its 'innovative platform concept' providing a high level of flexibility despite a high degree of technical standardisation. There will be a mix of self-contained motored cars and trailers which can operate in different combinations to suit specific applications. The railway has already identified up to 24 different train configurations.
The initial order will cover two main variants. The first is a seven-car formation with three powered vehicles, giving a seating capacity of 499 passengers and a maximum speed of 230 km/h. These will be used to operate the bulk of DB's IC network, replacing locomotive-hauled trainsets.
The second variant is a 10-car train with five power cars and 724 seats. These will have a top speed of 249 km/h. These will replace the existing ICE1 and ICE2 trainsets, which currently operate at up to 250 km/h. DB says it will continue to use its ICE3 trainsets on those few routes which have maximum speeds greater than 250 km/h.
Both ICx variants will have a restaurant and bistro car, plus a family area and space for up to eight bicycles. Each 200 m long train will be around 20 tonnes lighter than the ICEs it will replace, offering a 30% saving in energy consumption per passenger.
Assembly of the first trains is expected to start in 2013, with two pre-production trainsets to be delivered in 2016. These sets will undertake 14 months of trial operation, including 12 months in revenue service before series production begins. The series fleet will then be phased in line-by-line.
Meanwhile, Siemens has awarded a framework contract to Bombardier to support the ICx project, which Bombardier says is worth €1·3bn for the initial 130 trains and €2·1bn for the combined order for 220. This includes work on the aerodynamic optimisation. Bombardier will supply all of the bodyshells for the ICx fleet from its Görlitz plant, whilst the driving vehicles will be assembled at Hennigsdorf. Bombardier is also to supply Flexx Eco unpowered bogies for the trailer cars from its Siegen facility.