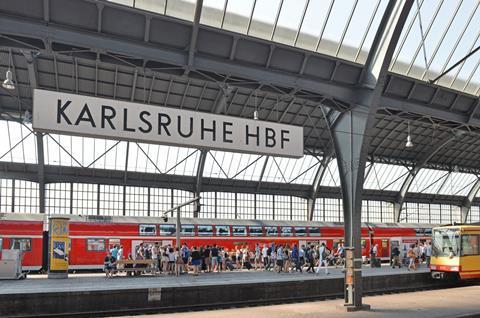 GERMANY: Baden-Württemberg has formally awarded DB Regio the Netz 7b contract to operate passenger services from Karlsruhe after none of the three losing bidders objected.
The contract announced on October 10 runs for 13 years from December 2022.
Various changes to services are planned, some of which are subject to the commissioning of the Rastatt tunnel and the Stuttgart 21 project, now scheduled for December 2025, and four-tracking between Mannheim and Heidelberg. These include:
an hourly Nordbaden-Express service from Karlsruhe via Bruchsal to Heidelberg, relieving service S3. This would be extended to Mannheim once four-tracking is completed;
an hourly regional express between Karlsruhe and Heilbronn;
a two-hourly regional express between Karlsruhe and Freudenstadt, replacing AVG service S81. This will become hourly once the Rastatt tunnel is completed.
The services will be operated using new three and five-car Alstom Coradia Continental multiple-units and three-car Siemens Mireo multiple-units. These will be owned by the Land under its 'Baden-Württemburg' procurement model. They will have free wi-fi, an accessible toilet and multi-purpose areas for bicycles, pushchairs and wheelchairs.
The Netz 7a contract covering urban services is to be directly awarded to incumbent AVG, which opted not to bid for the Netz 7b services.