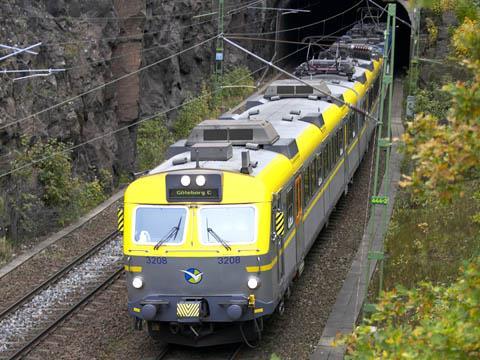 SWEDEN: Danish state passenger operator DSB is seeking early termination of its contract to operate commuter and regional services around Göteborg on behalf of transport authority Västtrafik.
Jacob Kjær, Acting Chief Executive of DSB and Chairman of its Swedish subsidiary DSB Väst, said that the services were reliable and punctual, but the operation was suffering from 'major economic problems'. Attempts have been made to grow revenue and cut costs, but the monthly deficit equivalent to SKr100m a year is commercially and politically unsustainable.
'We must recognise that the previous management in DSB Sverige took some wrong decisions, and this is reflected in operating and personnel costs that are too high', said Kjær. DSB must 'find a solution that is consistent with state aid rules'.
DSB's eight year contract began in December 2010. It has made provision for a potential loss of DKr303m on its Swedish activities, and is negotiating with Västtrafik for a new operator to take over earlier than scheduled.
DSB is also facing major losses in Denmark, where a programme to reduce costs includes cutting around 1 000 jobs over the three years, mostly through natural wastage and voluntary severance. There has been a review of procurement, the ending of certain loss-making activities, and complete outsourcing of IT and cleaning. DSB's headquarters building is also for sale.