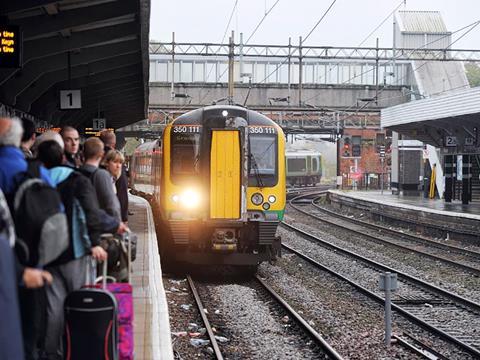 UK: Three bidders have been shortlisted for the next West Midlands passenger franchise, the Department for Transport announced on April 7. DfT is expected to issue the invitation to tender in July, with bids to be submitted in November. It expects to award the contract in June 2017, ready for the new franchise to start in October 2017.
The shortlisted bidders are:
London & West Midlands Railway Ltd, a bid vehicle formed by the Govia joint venture of Keolis (35%) and Go-Ahead Group (65%) which has operated the current franchise since 2007 under the London Midland brand;
West Midlands Trains Ltd, a subsidiary of the Abellio Transport Group Ltd business of Dutch national passenger operator NS, with East Japan Railway and Mitsui Corp as minority partners;
MTR Corp (West Midlands) Ltd, formed by Hong Kong MTR subsidiary MTR Corp (UK) Ltd.
The West Midlands franchise covers commuter and inter-regional passenger services across an area of central England centred on Birmingham, including services along the West Coast Main Line from London Euston in the south to Liverpool Lime Street in the northwest.
The current franchise is managed by the DfT, but the new franchise will be managed by DfT and West Midlands Rail Ltd, which was set up last year by 14 local authorities.
'We look forward to working with the DfT and the three bidders on shaping our local rail services for the forthcoming franchise', said WMR Programme Director Malcolm Holmes. 'The successful train operator will be working in an exciting new environment in which the West Midlands will have real influence and responsibility over its local services. We believe this partnership offers a major opportunity for the West Midlands to develop the network in a way that underpins economic growth, job creation and carbon reduction while delivering significant benefits for passengers.'
WMR said the next operator would be required to tackle overcrowding, reduce delays and cancellations and introduce free onboard wi-fi. It would also be expected to support planned infrastructure improvements including the completion of Rugeley Trent Valley to Walsall electrification, upgrades in Birmingham and High Speed 2 enabling works at London Euston.
'The West Midlands franchise serves both commuters and long distance passengers and we are confident these companies will create high quality bids that can deliver better journeys for all', said Rail Minister Claire Perry. 'Today's announcement marks a key step forward in giving passengers improved services across the region and beyond.'
DfT also announced that the consortium of JR East and Mitsui & Co had been awarded a Pre-Qualification Questionnaire Passport, which enables companies to express interest in franchises for four years without having to resubmit the same information every time.