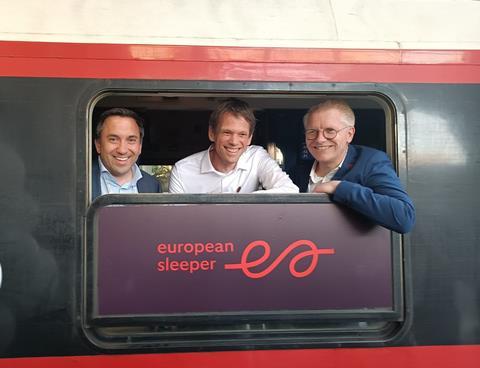 EUROPE: Night train start-up European Sleeper has begun passenger operations, providing an overnight rail connection between Brussels and Berlin for the first time since 2008.
The inaugural service left Berlin Gesundbrunnen on May 25, engineering works having prevented the use of Hauptbahnhof. The train comprised 11 coaches hired from TRI, GfE and Euro Express, including two ex-CIWL Type P sleeping cars and eight couchette cars. It was hauled by a hired Lineas Class 186 Traxx electric loco owned by leasing company Railpool,
Westbound services will leave Berlin on Sundays, Tuesdays and Thursdays, with eastbound services from Brussels Midi on Mondays, Wednesdays and Fridays.
Prices range from €69 for a seat to €99 for a couchette berth, €159 for a sleeping berth and €199 for a single sleeping compartment. Breakfast is included for couchette and sleeping car passengers.
Co-founder Chris Engelsman told Railway Gazette International that the inaugural westbound train was 65% full, while the first eastbound train was fully booked.
Open access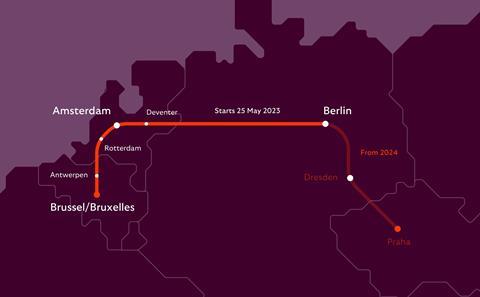 Netherlands-based European Sleeper was founded by Engelsman and Elmer van Buuren.
It is structured as a co-operative, and in 2021 raised €500 000 in starting capital within three months by selling shares to over 350 small investors. In 2022 it raised a further €2m by selling shares.
The service operates on a purely commercial basis, with no public service contract.
Commenting on the launch, the AllRail association of new entrants to the passenger market said 'European Sleeper demonstrates that demand for long-distance cross-border passenger rail, including night trains, is growing fast, and that such services can be operated in a commercially viable, open access manner. It also shows that in the Single European Rail Area, operators no longer need to partner up with national incumbents when crossing an internal EU border.'
Welcoming an announcement by Deputy Prime Minister Georges Gilkinet that Belgium has passed a law under which night train operators will not pay for track access fees or energy costs for the next two years, AllRail said 'it is understandable if EU member states want to help new cross-border long-distance trains financially', and said this should be done in a non-discriminatory manner for all operators.
'Belgium's approach to encouraging night trains is very welcome — and it should be emulated across Europe', said AllRail Policy Officer Salim Benkirane.
Expansion plans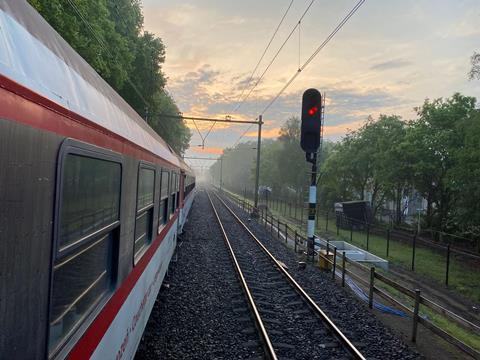 European Sleeper said the service is not only relevant for the cities on the route, but also offers options to connect with trains to and from London, Paris and Warszawa.
The route is to be extend from Berlin to Dresden and Praha in spring 2024, and will be increased to daily once enough rolling stock is available.
The company said the lack of available sleeping cars had proved the greatest challenge to launching the service.
The initial rolling stock is hired, but Engelsman said the ambition is to purchase up to 35 second-hand coaches for conversion into three rakes of overnight stock offering a more modern appearance with greater comfort and privacy.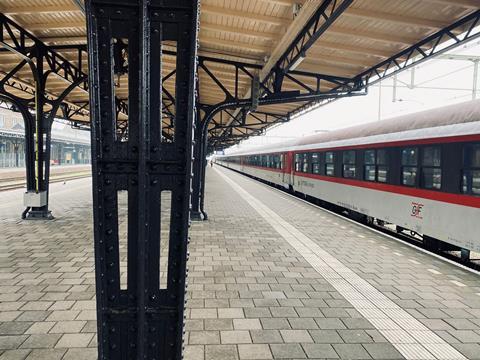 European Sleeper sees the introduction of Berlin – Amsterdam – Brussels service as the first step in building a more extensive network of sleeper trains from Belgium and the Netherlands.
A proposed Amsterdam – Barcelona service is one of 10 pilot projects selected to receive non-financial support from a European Commission programme to encourage international train connections. The service would run via Brussels and potentially Paris from 2025 or 2026.
'Our ambition is to introduce a new train service every year', said European Sleeper. 'More and more people will abandon planes, cars or buses and board the sleeper train to be transported to new places as they sleep.'