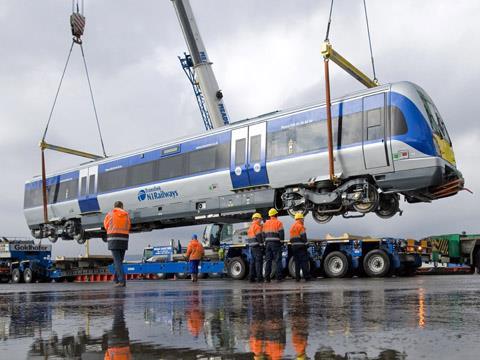 UK: The first of 20 three-car diesel multiple-units for Translink NI Railways was delivered to Belfast docks on March 14, two years after the order was placed with Spanish manufacturer CAF under a £114m project funded by the Department for Regional Development.
Testing at up 145 km/h is set to begin by the end of March, with a requirement for 3 220 km of fault-free running before acceptance. The 1 600 mm gauge Class 4000 units will begin replacing Class 80 and 450 DMUs on the Belfast - Larne line from the end of this year, and will also be used on 'key commuter services'; there has been a 60% growth in customers since 2002, and platforms at 19 stations are being extended to accommodate longer trains.
The Class 4000 is an evolution of the 23 Class 3000 (C3K) trains which CAF supplied in 2004-05, incorporating the results of passenger feedback and a reliability review. The Class 4000 has double the space for pushchairs and can take up to eight bicycles, while the number of toilets has been reduced from two to one, providing 212 rather than 200 seats. There is an enhanced passenger information system, LED rather than halogen lighting, a revised interior colour scheme and re-styled front ends. The interior is designed around European Persons of Reduced Mobility standards, rather than the former UK-specific RVAR standards.
Technical changes include an integrated traction raft incorporating auxiliary power generation, reduced emissions in line with Stage IIIA limits, a 5 tonne weight reduction, an 'ECO-Meter' to assist fuel-efficient driving, and various modifications for improved reliability. Interior doors are electrically rather than air powered.
A new depot, fuelling, cleaning, and train stabling facility is planned for the former Adelaide freight yard in Belfast, as the York Road and Fortwilliam depots are operating near capacity.
Funding has also been allocated to upgrade the line between Coleraine and Londonderry in 2014-15.