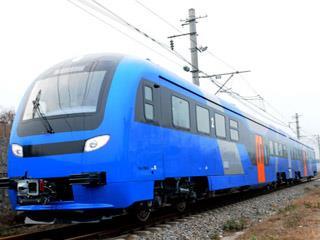 TUNISIA: CSR Nanjing Puzhen has begun delivery of a fleet of diesel multiple-units ordered by state railway SNCFT.
Announcing the shipping of the first unit from Shanghai during January, the manufacturer said the development of the diesel-hydraulic multiple-units for export 'marks a great breakthrough of China's technology', making use of European standards for design, verification and production.
The contract signed in March 2009 covers 12 standard gauge DMUs with a top speed of 160 km/h, and eight 130 km/h metre gauge units. The two-car units have 53 seats in the 'comfortable' class and 64 in 'economical' class. Up to three DMUs can work in multiple.
According to CSR, particular emphasis has been placed on the use of lightweight materials and minimising engine noise inside the vehicles. Self-acting fire extinguishing systems are installed above the underfloor engine modules.
The February 2012 issue of Railway Gazette International reviews Chinese exports; subscribers can access the magazine in the digital archive.