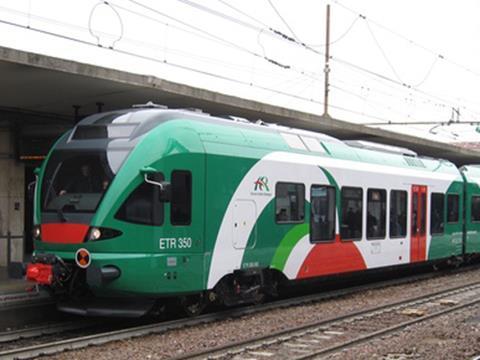 ITALY: On January 21 Stadler Rail and AnsaldoBreda handed over five FLIRT ETR-350 multiple-units to Ferrovie Emilia Romagna in Bologna.
These are part of a €200m order for two operators. FER is to get 12 five-car EMUs. Sistemi Territoriali will get four six-car EMUs, 16 four-car EMUs and two GTW DMUs. There is the option for an additional 20 FLIRTs and more GTWs.
Stadler is responsible for engineering, powered cars, traction equipment, driver's cabs and bogies. AnsaldoBreda is producing the intermediate cars and is assembling the trainsets and commissioning them before final delivery (RG 12.09 p8).
The lightweight aluminium trainsets have a maximum speed of 160 km/h. They have been approved for various routes in Emilia Romagna. Over the next few weeks, they will be approved for the entire RFI network.