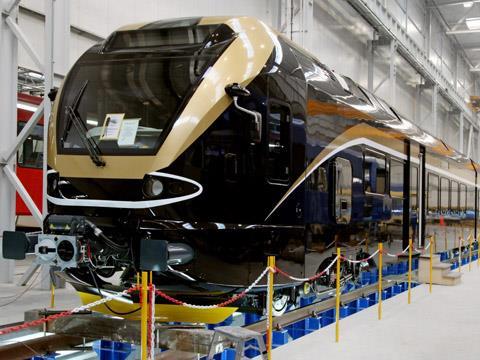 CZECH REPUBLIC: The first of five Flirt electric multiple-units ordered by Leo Express to launch open access services was handed over in a ceremony at Stadler Rail's Bussnang plant in Switzerland on February 5.
Leo Express, originally known as Rapid Express, was set up in 2010, backed by Aakon Capital. It plans to launch inter-city services on the Praha - Ostrava route in December 2012, competing against Czech Railways and open access operator RegioJet which launched in September 2011 (RG 10.11 p50).
The five-car EMUs were ordered in September 2010 and are being assembled at Stadler's plant in Siedlce, Poland, using aluminium extrusions from Szolnok in Hungary. They are intended to run at 160 km/h, and will initially be equipped for 3 kV DC operation with the possibility of adding 25 kV 50 Hz later. Stadler will be responsible for maintenance.
The air-conditioned vehicles will have 237 seats supplied by Borcad in Economy (212), Business (19) and Premium (6) classes. There will be catering, free wi-fi and extensive luggage space, and one of the three vacuum toilets will be wheelchair accessible.
Following testing at Velim, one of the Leo Express units will be on show at InnoTrans in Berlin during September; Railway Gazette International is the only official international media partner for the exhibition.
Leo Express founder Leos Novotny explained his ambitions for the open access operator in the October 2011 issue of Railway Gazette International, which subscribers can access in the digital archive.