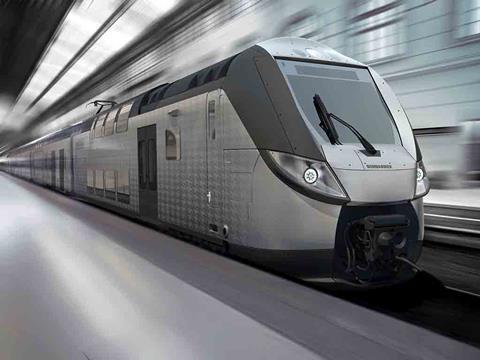 FRANCE: SNCF has placed the first order for the Premium inter-city version of Bombardier Transportation's Omneo double-deck electric multiple-unit, acting on behalf of the Normandie region.
The €585m firm order announced on November 24 covers 40 EMUs scheduled to enter service from the end of 2019. The Omneo Premium design has a maximum speed of 200 km/h, and to suit the long-distance market it offers wi-fi, USB and standard power points, and wider seats than the regional version. The units for Normandie will be 135 m long with 470 seats, providing a 20% increase in capacity on the Paris – Rouen – Le Havre and Paris – Caen – Cherbourg routes.
'This is the first order for the newly-designed Premium version of our Omneo double-deck platform', said Laurent Bouyer, President of Bombardier Transportation France. 'Passengers will benefit from over 100 additional seats and a new level of rail travel comfort and style.'
The order has been placed within a 2010 framework agreement which could see SNCF order up to 860 Bombardier double-deck EMUs on behalf of the French regions. So far firm orders have been placed for a total of 253 units, the last of which is scheduled to be delivered in early 2021.