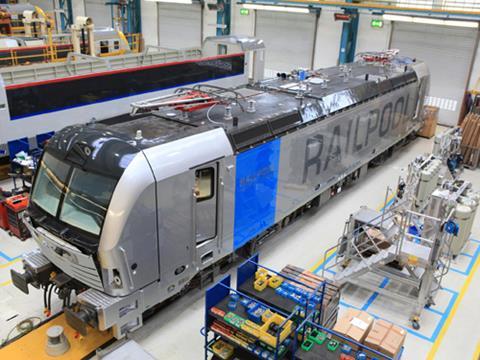 GERMANY: The first of six Vectron electric locomotives ordered by leasing company Railpool was formally handed over by Siemens Rail Systems Division CEO Dr Jochen Eickholt on November 7.
The Railpool joint venture of HSH Nordbank and KfW IPEX-Bank was the first customer for the Vectron modular locomotive family, placing an order in December 2010 for six 15 kV 16·7 Hz Vectron AC locomotives rated at 6·4 MW and with a top speed of 200 km/h.
'The decisive factor for Railpool was that we can deploy the Vectron in freight, regional and inter-city services without restriction', according to Railpool CEO Dr Walter Breinl.
The deal includes the supply of spare parts under Siemens' Railcover maintenance support concept.
The Vectron AC locomotives for Railpool are to be deployed on cross-border passenger and freight services in Germany and Austria. They are equipped with ETCS, and pre-wired for train protection systems used in Hungary and Romania.