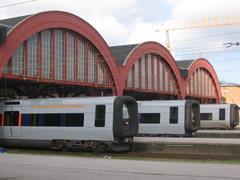 DENMARK: FirstGroup has confirmed that it is to sell its 30% stake in the DSBFirst joint venture which has contracts to operate passenger trains in Denmark and southern Sweden.
State-owned passenger operator DSB announced the resignation of the FirstGroup members on the boards of DSBFirst Danmark A/S and DSBFirst Aps on April 22. DSB said it was working with FirstGroup to manage the transfer to new ownership and to find a 'better, more durable' model for the Øresund services.
DSBFirst has become embroiled in controversy over alleged illegal cross-subsidies from 70% owner DSB, which has been expanding its overseas operating activities. DSB Chief Executive Søren Eriksen was removed on March 18 after emerged that the DSB board had not been informed of the problems at DSBFirst. DSB has allocated DKr725m to clear up the financial problems at DSBFirst, but local reports suggest FirstGroup believes it is not responsible for any debts incurred by the joint venture that it had not agreed to.
'FirstGroup's directors on the board of DSBFirst have resigned their positions', a FirstGroup spokesperson told Railway Gazette International on April 26. FirstGroup intends to sell its stake but for now it 'continues to be a 30% shareholder in DSBFirst and is committed to working with DSB to find a resolution to the current issues'.
On April 14 DSB's interim CEO Klaus Pedersen announced his intention to leave the operator to take up another opportunity later this year. On April 26 Mogens Granborg informed the transport ministry that he would be stepping down as Chairman of the DSB board for health reasons.