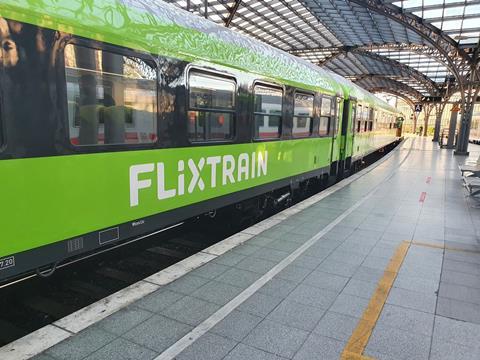 GERMANY: Open access operator FlixTrain was able to step up its low-cost services on August 13, when a fourth set of refurbished coaches was put into operation on its Hamburg – Köln route, and is now lengthening trains as additional vehicles arrive.
Having suspended all services during the coronavirus pandemic, FlixTrain began a cautious return on July 24, deploying one train on each of its Berlin – Köln and Hamburg – Köln routes. Following the withdrawal of former operating partner RDC Deutschland, the bus-rail promoter FlixMobility has acquired its own rolling stock with the backing of leasing company Railpool. The vehicles are being refurbished by Talbot Rail Services at Aachen before entering service.
Operation resumed with one trainset working five trains each way per week on each route. Delivery of a third set in early August allowed a doubling of the Berlin – Köln service. Arrival of the fourth set has allowed FlixTrain to reintroduce limited-stop 'Sprinter' services between Hamburg and Köln in competition with DB Fernverkehr. However, no date has been set for resumption of the Berlin – Stuttgart route, where bookings remain suspended until at least the end of September.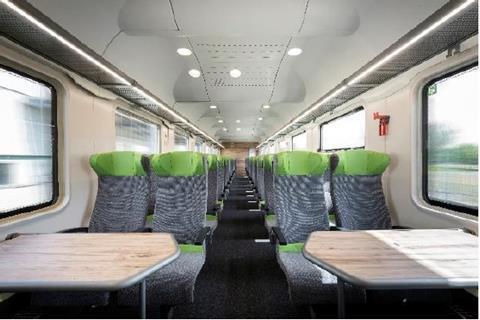 Berlin – Köln trains are now being operated for FlixMobility by Horb-based charter operator SVG, while the Hamburg – Köln route is being run by IGE from Hersbruck. 'We have gained two very strong partners whose expertise in rail transport, together with us as a tech group, will create a strong offering for travellers', explained Fabian Stenger, Managing Director of FlixTrain DACH. 'We are looking forward to a long-term co-operation.'
Each refurbished five-coach train provides 480 seats. As additional stock arrives, the Berlin – Köln/Aachen trains are being lengthened to eight coaches, and the Hamburg – Köln trains to seven. The vehicles have been converted from compartment coaches to a high-capacity open saloon configuration, and fitted with new seats including at-seat power sockets. Onboard wifi and entertainment are provided, and the toilets have also been modernised.
To ensure the safety of passengers and staff, FlixTrain says it has implemented a comprehensive hygiene regime with regular cleaning and disinfection of the vehicles and a 'continuous fresh air supply'. It has also implemented a contactless ticketing and check-in regime, which also supports real-time monitoring of passenger loadings.
Underlining its green credentials, FlixTrain is taking its traction power from Greenpeace Energy, and says its trains are now operating with '100% green electricity'. To encourage passengers back to rail, the operator is offering fares starting from €4·99, including reserved seating.
'We are now bringing back the most sustainable and affordable alternative by rail', said Stenger when the services resumed. 'Our trains have been completely renovated from the ground up, so our passengers can now travel in even more comfort.'
Pointing out that 'the federal government's goal is to double the number of passengers using rail transport by 2030', Dr Tamara Zieschang, State Secretary at the Federal Ministry of Transport & Digital Infrastructure, said 'providers such as FlixTrain are ensuring competition on the railways. This is good for the passengers above all, because everyone can choose the most attractive offer from a wider range of services.'