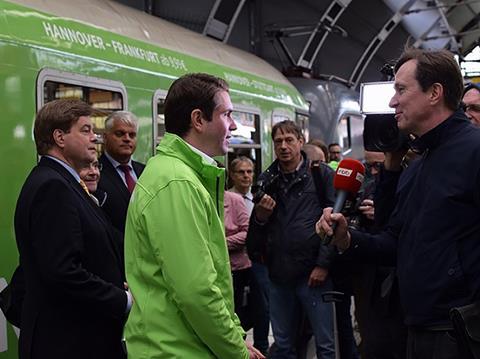 GERMANY: FlixMobility has applied for paths to operate open access services from Berlin to Köln and München from the December timetable change, the company confirmed on April 26 when its first FlixTrain-branded service ran on the Berlin – Stuttgart route.
FlixBus has been handling ticketing for the Berlin – Stuttgart service since LEO Express took over from insolvent Locomore in August 2017, but until now the Locomore brand had been retained.
As with its FlixBus coach network, FlixMobility is responsible for FlixTrain network development, sales and marketing, while operations and fleet management are handled by a specialist partner, in this case LEO Express.
There is initially one FlixTrain service each way per day on the Berlin – Stuttgart route, with an increase to two trains each way planned for July.
In March FlixTrain began operating Hamburg – Köln services in partnership with BahnTouristikExpress and MRCE, succeeding Hamburg-Köln-Express.
Managing Director Fabian Stenger said he saw FlixTrain as filling a gap in the market between inter-city coaches and DB's ICE trains. 'We are sometimes a little slower than the ICE, but also cheaper', he said.
Speaking at the departure of the first Berlin – Stuttgart service under the FlixTrain brand, State Secretary at the Federal Ministry of Transport & Digital Infrastructure Enak Ferlemann said new market entrants 'attract additional customers to rail and bring about modal shift', and 'it should no longer be the case that the incumbent remains a monopoly with 99% market share in longer distance passenger rail'.
Secretary General of the ALLRAIL group of new market entrants Nick Brooks said it was 'surprising that the incumbent often tries to portray Germany as a role model for competition', when 'in long-distance passenger rail this is certainly not the case'. Brooks said it was 'imperative that the right conditions are in place to encourage more new operators like LEO Express to enter the market', which should include mandatory through ticketing and impartial retailing 'similar to what some of DB's subsidiaries benefit from outside of Germany'.