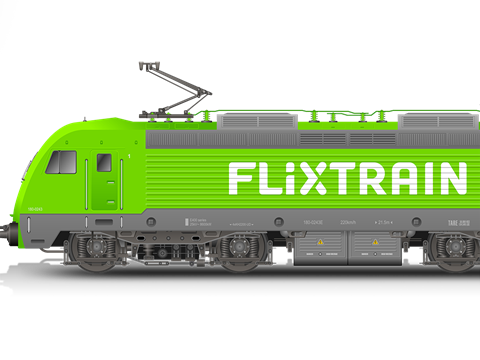 GERMANY: FlixMobility is to launch a FlixTrain-branded open access service on the Köln – Hamburg route on March 24, taking over the rolling stock formerly used by Hamburg-Köln-Express which suspended operation last year.
The Berlin – Stuttgart open access service, originally launched by Locomore and is now operated by LEO Express with FlixMobility handling ticketing and customer service, will also become part of the FlixTrain brand from April.
FlixTrain tickets will be sold online, through an app and in FlixBus ticket shops, with prices starting at €9·99.
FlixTrain is intended to build on the FlixBus long-distance coach network, which now covers 1 400 destinations in 27 countries and has carried 100 million passengers since launching in 2013; expansion into the USA is planned for this year.
FlixTrain will use a similar model to FlixBus, where FlixMobility handles network development, technology, sales, marketing and quality management, while operations and fleet management are provided by experienced external partners.
The Köln – Hamburg service is to be operated by charter train company BahnTouristikExpress, which operated the HKX service. The HKX coaches are owned by BTE and will continue to be used, and traction will be provided by MRCE.
FlixTrain plans to apply later this year for the rights to operate additional German routes from 2019. The company told Railway Gazette International it has no firm plans to expand FlixTrain into other countries, where it is focusing on coaches, but it is 'always looking for new opportunities'.
Announcing the launch of FlixTrain on March 6, FlixMobility co-founder and CEO André Schwämmlein said FlixMobility aimed to provided an affordable and ecological alternative to cars which would 'persuade and allow' more people to use public transport on long-distance routes. Coach and rail would 'complement each other perfectly', he said, and 'by adding FlixTrain to the FlixMobility offering, we can provide affordable travel options to even more people. We are demonstrating that comfortable long-distance travel does not need to be expensive'.