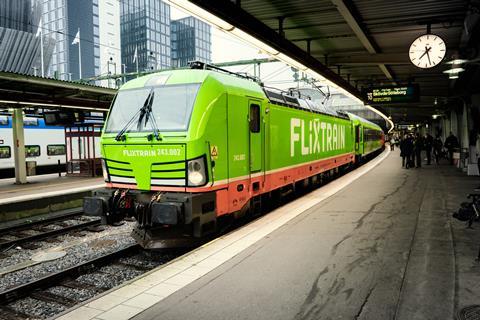 EUROPE: Having launched its first FlixTrain services in Sweden on May 6, FlixMobility announced on May 11 that it intends to launch two additional inter-city routes in Germany over the coming months, as part of an expansion programme aiming to double the number of open access services.
FlixTrain suspended operations at the height of the coronavirus pandemic last year, but restarted regular services in July 2020 on the east-west route linking Aachen, Köln, Hannover and Berlin and a Köln – Hamburg service via Düsseldorf, Essen and Osnabrück. Its established Berlin – Frankfurt – Stuttgart route is now expected to resume operation in June.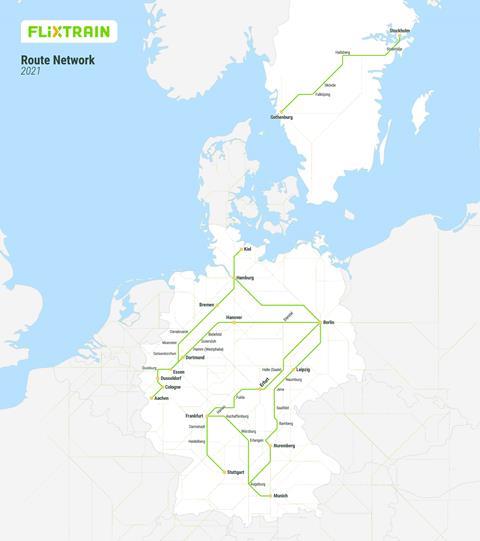 Bookings opened on May 11 for a north – south route linking Hamburg, Berlin and Leipzig which is due to start running from May 27. This will be expanded south to Nürnberg, Augsburg and München from June 17, and northwards to Kiel from September 11. FlixTrain is looking to operate up to eight trains per day between Leipzig, Berlin and Hamburg, going head to head with Deutsche Bahn's half-hourly ICE service.
A second new route to be introduced on June 18 will link München and Frankfurt via Augsburg, Würzburg and Aschaffenburg; this will initially have one train each way per day.
FlixMobility founder and CEO André Schwämmlein told Wirtschafts Woche that the group had used the hiatus during the pandemic to modernise its fleet, offering 'a quantum leap in the quality of the rolling stock'. With the backing of leasing company Railpool, the group has acquired a substantial fleet of second hand vehicles which are being refurbished by Talbot Rail Services at Aachen and fitted with onboard wi-fi.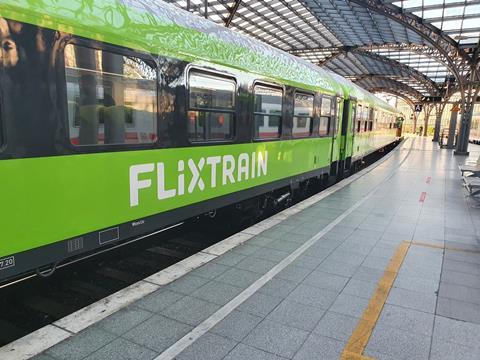 The expanded fleet will enable the operator to provide low-cost services on more routes with tickets starting from €5 each way. 'We are putting additional trains on the tracks and want to send a clear signal', said Schwämmlein. 'Train travel must be accessible for everyone. And people should have a choice about which train they want to take. So it's all the better that we are providing an excellent alternative with modern trains, affordable prices and fast travel times.'
Night trains too
Schwämmlein confirmed that FlixTrain is also preparing to enter the night train market, and will introduce two overnight trains between München, Berlin and Hamburg from mid-June. 'If that goes well, we will expand it further', he added. Although DB withdrew from this market some years ago, the state-owned operator has been working with Austria's ÖBB to support several Nightjet routes, and has announced its intention to operate overnight seating services using ICE high speed trains.
Target Deutschlandtakt
Schwämmlein said FlixMobility wanted 'to show the politicians that we, as a private railway company, fit into their vision of interlinking Germany even more closely'.
He believes that the proposed Deutschlandtakt national regular-interval timetable should not be run solely by DB, but suggested that the standardised paths on key routes should be shared with private operators.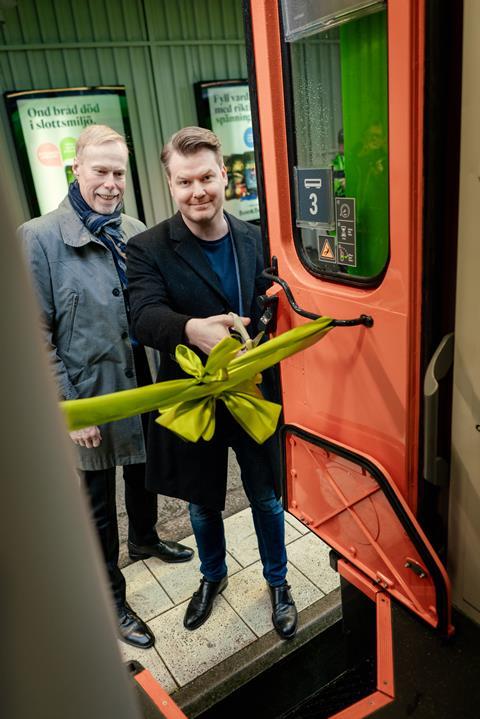 Whilst FlixTrain had to appeal to the Bundesnetzagentur three years ago in order to obtain long-distance paths on routes that DB Netz had declared to be congested, Schwämmlein reported that the operator was now seeing 'intensive co-operation' with the infrastructure manager. Although the path allocation process was 'very bureaucratic', he said DB Netz now recognised that 'we can be part of the solution: there can be two railways in Germany'.
In Sweden, FlixTrain is working with Hector Rail as a local partner; the two companies are initially operating 38 trains per week between Stockholm and Göteborg.