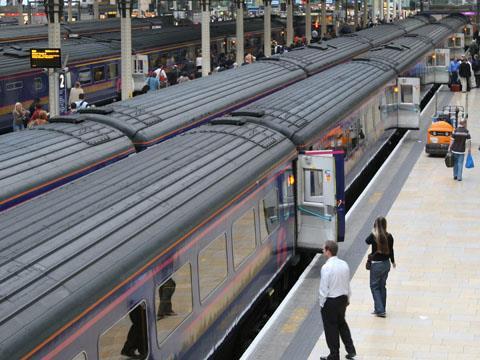 UK: Aiming to produce a 'deliverable and balanced programme', on August 5 Transport Secretary Philip Hammond published a timetable for re-letting eight passenger franchises over the next three years.
'My aim in doing so is to give the market clarity about the timing of the opportunities that will arise', he said. 'I have had regard to the impact on bidders and their subcontractors of trying to compete for too many franchises at once, and the likely reduction in value for money to the taxpayer that would result'.
As previously announced, the invitation to tender for InterCity West Coast is due to be issued in January 2012, with the replacement franchise to start in December next year. The next to start would be Greater Western in April 2013, following FirstGroup's decision not to take up a three-year extension to its existing franchise.
As a result, 'and to avoid having to offer more than one long-distance franchise competition at the same time, with possible consequences for taxpayer value', the new InterCity East Coast franchise would start in December 2013.
Amongst the London commuter franchises, there are no changes to the timetable for re-letting Essex Thameside (currently operated as c2c by National Express Group) or Southeastern.
But in light of the likely delivery timescales for the new Thameslink fleet, Hammond has decided to bring forward the start of the replacement Thameslink franchise to September 2013. This is likely to be shorter than the current standard term of 15 years, said Hammond, with a focus on managing services through the major works to upgrade the cross-London route under the Thameslink Programme.
To accommodate Thameslink and ICEC, the 15-year Greater Anglia franchise would now start in July 2014. This would be achieved by exercising the 12-month extension option in the interim Greater Anglia franchise now out to tender.
Hammond also announced on August 5 that he had agreed with FirstGroup and Keolis an extension to the TransPennine Express franchise which would enable TPE to be terminated between April 2014 and March 2015. By exercising 'the short extension provision' in current Northern franchise, the two overlapping franchises could end at the same time which might allow them to be combined 'or split in different ways'. According to Hammond, these timescales 'will allow for proper consultation and consideration of the possibilities of a radical restructuring in the Northern/TPE area'.
Franchise
Start date
InterCity West Coast
December 2012
Greater Western
April 2013
Essex Thameside
May 2013
Thameslink
September 2013
InterCity East Coast
December 2013
Southeastern
April 2014
Northern
April 2014*
TransPennine Express
April 2014*
Greater Anglia
July 2014
* provisional