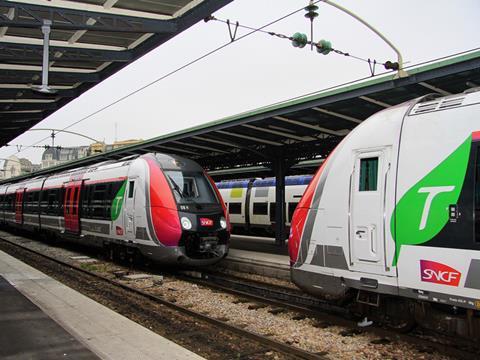 FRANCE: President of the Ile-de-France regional council and Paris transport authority STIF Jean-Paul Huchon joined SNCF Transilien Director General Bénédicte Tilloy and RFF Ile-de-France Regional Director François Régus Orizet on February 27 to mark the entry into service of the first of 35 Francilien EMUs for the suburban network serving Paris Est.
Under a contract for 172 trainsets worth €1·85bn, Bombardier has now delivered 86 EMUs, of which three are in service on the route from Paris Est to Meaux. By the end of 2013 a total of 19 are due to be in service on the routes to Meaux and Coulommiers, which form part of Line P of the Transilien network, offering a 26% increase in capacity on the hauled stock they replace and releasing Z2N double-deck EMUs for redeployment on RER lines C and D.
A fleet of 82 Francilien EMUs is already operating on the routes out of Paris Nord forming Line H, where they have helped to improve punctuality by replacing older, less reliable rolling stock. One EMU has begun trials on the routes out of Paris Saint-Lazare, where a fleet of 12 is due to be in service by the end of 2013.