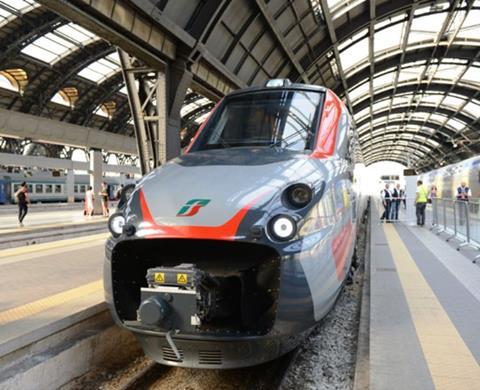 ITALY: Trenitalia's Frecciargento trainsets will begin serving Bari from the end of September, working two trains a day between Milano and Bari via the Adriatic corridor.
Presenting the new trains to local decision makers at Bari Centrale on September 19, Trenitalia's Director, Long Haul, Paolo Attanasio explained that the introduction of the 250 km/h trainsets was part of a broader plan to enhance services from Milano, Torino and Venezia to destinations along the Adriatic coast. The former V250 Fyra units have been operating between Milano and Ancona since June, and all 17 sets are expected to be in traffic by the first half of 2020.
The ETR470s will gradually replace Frecciabianca trainsets on the route to Bari, starting with the 15.35 from Milano on September 29 and the 05.32 from Bari the following morning. These services will make the same stops as at present, maintaining connections at Foggia and Barletta in Puglia.
According to FS, Trenitalia now offers more than 17 000 seats per day on trains linking Milano, Bologna and Bari, including 20 Frecce expresses, 10 InterCity day trains and six InterCity Notte overnight services.
The operator anticipates that the improved quality of service offered by the Frecciargento 700 trainsets will encourage modal shift to rail, with onboard facilities including wi-fi and improved mobile phone coverage as well as the FrecciaBistrò car open to all passengers.