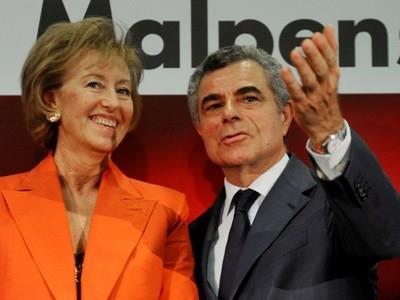 ITALY: Celebrations on September 13 marked the start of high speed through trains linking Milano's Malpensa Airport with cities along the north-south AV corridor.
FS Group Chief Executive Mauro Moretti rode the first train to the airport, together with the President of Lombardia Roberto Forminoni, city councillor for Infrastructure & Mobility Raffaele Cattaneo, and Mayor of Milano Letizia Moratti, being greeted on arrival by Giuseppe Bonomi, the President of airport operator SEA.
At present Trenitalia is operating one train each way per day between Napoli and Malpensa, calling at Roma Termini, Firenze SMN, Bologna and Milano Centrale, and a second between Firenze and Malpensa. Journey time from Napoli is 5 h 49 min, with the 45 km Milano – Malpensa leg covered in 42 min.
To reach the airport, the trains use a new 8 km double-track link between Milano Centrale and Milano Bovisa on Ferrovie Nord's line to Malpensa and Saronno. Completed at a cost of €87·5m this 'Passantino' connection includes a 22-span viaduct 285 m long and 230 m of tunnel.