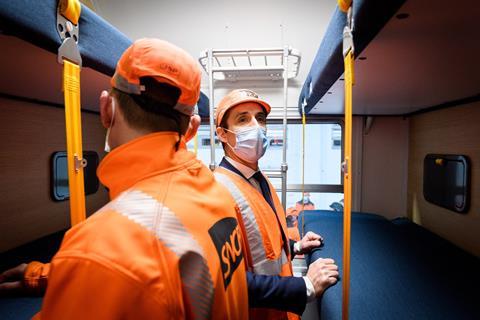 FRANCE: Transport Minister Jean-Baptiste Djébbari has said his ambition is 'to have about 10 overnight train services in 2030'.
Speaking to Le Parisien after visiting the technicentre at Périgueux with SNCF President Jean-Pierre Farandou to see the first of 60 couchette coaches that are being refurbished, Djébbari's statement came as ministers start to consider a report on the future of overnight and daytime TET services.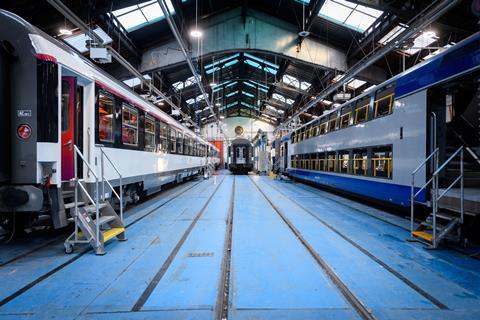 The authors are understood to have based their proposals on the success of NightJet services operated by Austrian Federal Railways in association with national operators in other countries. As with NightJet, they felt it would be essential to appeal to all sectors of the market.
Originally due to have been submitted to parliament by June 30 2020, the report puts forward proposals for a network of overnight trains centred on four core routes: Marseille – Dijon, Marseille – Bordeaux, Tours – Lyon and Paris – Toulouse.
Examples of overnight services that would be based on these corridors include:
Nice – Marseille – Avignon – Lyon – Orléans – Nantes – Quimper, paired with Nice – Marseille – Toulouse – Bordeaux;
Nice – Marseille – Avignon – Lyon – Strasbourg – Metz, paired with Nice – Barcelona and Nice – Genève – Zürich;
Paris – Perpignan – Barcelona.
Another proposal is for a Marseille – Paris service via Montpellier, Bordeaux and Tours with portions to and from Bayonne and Latour de Carol.
Djébbari explained that the proposals are not yet firm: 'we now have to decide if the service on the Dijon – Marseille axis starts from Strasbourg, Metz or even Lille and if it goes beyond Marseille to Nice'.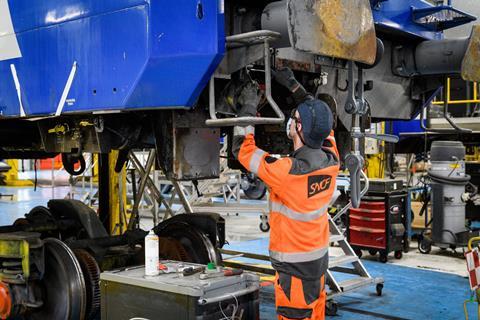 He said he was convinced that there was a customer base for night trains if there was 'good service quality and the right commercial offer … with the ecological stakes, "flight shame" and the pandemic that is reshaping the ways we travel, the night train offers everything to attract travellers'.
At the moment SNCF operates just two domestic overnight services: Paris – Briançon and Paris – Toulouse – Latour de Carol/Rodez. Two more services will be revived shortly: Paris – Nice from April this year and Paris – Tarbes – Hendaye from December this year.
One regular user of the Briançon service is Minister for Rural Affairs Joël Giraud, who is also a member of the National Federation of Transport Users' Associations and a frequent critic of SNCF's policies.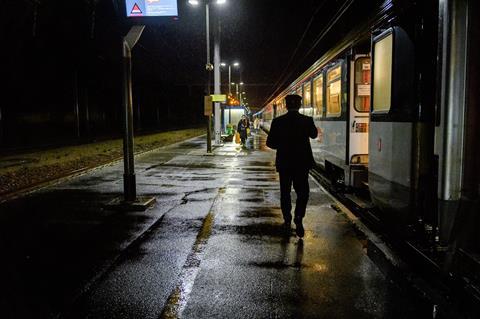 The Périgueux workshops are refurbishing 35 couchette and seating cars for Paris – Briançon, 36 cars for Paris – Latour de Carol and 22 cars for the Paris – Nice and Paris – Tarbes services. All refurbished cars for the Briançon and Latour de Carol routes should be delivered by June 2023.
The study also examined the revival of international overnight services, many of which were put forward last September as TEEN services in the TEE2.0 initiative by Germany's transport ministry. Additional routes proposed include Paris – Madrid and Paris – Roma, both of which would revive services withdrawn within the last 10 years.
Were all these initiatives to go ahead, around 345 coaches for domestic services and 255 for international routes would be needed, potentially costing around €900m. Djébbari envisages that funding could be made available under the European Union's Green Deal scheme.
As for daytime TET services, the report examines options for additional routes over and above those that currently operate. These would be Nantes – Rouen – Lille, Metz – Lyon – Grenoble and Toulouse – Lyon, plus an extension of the Bordeaux – Marseille service to Nice. Another potential route would be Orléans – Clermont Ferrand/Lyon. Rolling stock would be based on designs already in service or on order for SNCF, namely the Alstom Coradia Liner and CAF Confort 200 multiple-units.