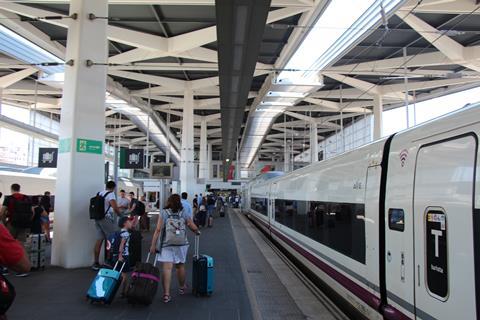 SPAIN: National operator RENFE is to integrate Karhoo's taxi booking platform into its 'RENFE as a Service' mobile app, which is being developed with the aim of enabling passengers to book an end-to-end journey across modes including rail, metro, taxi, private hire vehicle and scooter in a single app and with a single payment.
The Raas app is to be piloted on the Madrid – Barcelona route, ahead of the national roll-out planned for 2020.
Karhoo said its platform now includes 1·8 million vehicles across 150 countries, with 180 fleets in Spain. Earlier this year it began working with SNCF in France.
'People are increasingly looking for quicker, cheaper, more sustainable and more convenient ways to get from A to B, and the first and last mile of a journey can often be the most stressful', said Karhoo Co-CEO Nicolas Andine when the RENFE agreement was announced on November 8. 'Through this innovative partnership with RENFE we will enable Spanish travellers to seamlessly plan their travel from the moment they step foot outside their front door until the moment they reach their final destination.'