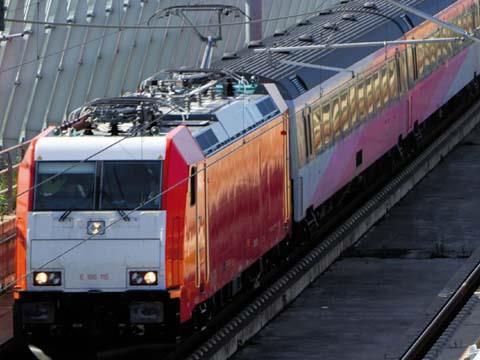 NETHERLANDS: NS Hispeed finally began running Fyra services between Amsterdam and Breda on April 4, when the interim locomotive-hauled shuttle was extended from Rotterdam to Breda.
Operating at half-hourly intervals, the trains take 67 min from Amsterdam Centraal to Breda, including intermediate stops at Schiphol Airport and Rotterdam Centraal. The northbound timing is 72 min, including a 5 min stop at Rotterdam. Whilst premium fares are charged between Amsterdam and Rotterdam, there is no additional charge for the Breda leg until July.
With the full Fyra service delayed by late delivery of the V250 trains from AnsaldoBreda, NS Hispeed launched its interim service over the northern section of HSL-Zuid between and Amsterdam and Rotterdam in September 2009. Originally hourly, this was stepped up to half-hourly in October 2010.
The interim trains are formed of conventional coaches hauled by leased Bombardier Traxx multi-system locos. They operate at up to 160 km/h using ETCS Level 1, meaning that Thalys services to and from Paris also had to operate on Level 1 between Rotterdam and Schiphol.
Because the Thalys trains were running at 300 km/h on the southern section of HSL-Zuid using ETCS Level 2, Fyra services could not be extended south of Rotterdam until the locos had been certified for Level 2 operation. Now this has been achieved, infrastructure provider Infraspeed is expected to switch the northern portion of HSL-Zuid to Level 2, allowing Thalys to run at up to 300 km/h on this section.
Meanwhile, there is continuing concern over the financial position of the High Speed Alliance joint venture of NS and KLM which holds the operating concession for HSL-Zuid. Ridership on the interim Fyra service has failed to reach expected levels, despite several reductions in the premium fares charged, and earlier this year HSA warned that it would have problems meeting the full concession payments to the government. The alliance now hopes to see the first V250 sets in domestic service before the end of this year, but they will not take over the Amsterdam – Brussels international route until 2012.