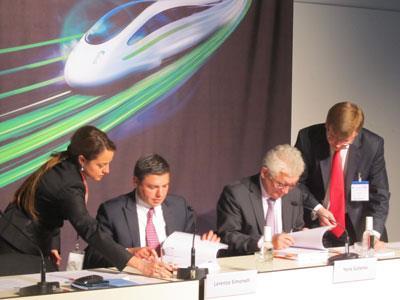 KAZAKHSTAN: National railway KTZ and GE Transportation signed a contract for 110 Evolution series passenger locomotives at InnoTrans on September 19.
The diesel locomotives are to be based on the successful TE33A freight locomotives used in Kazakhstan. Modifications for passenger service will include raising the maximum speed to 160 km/h.
The design is seen as suitable for use across the entire 1520 mm gauge region, with certification for use in Russia expected to be obtained in 2015.
The locomotives are to be supplied in kit form from GE's Grove City and Erie plants in the USA, for assembly by KTZ's JSC Lokomotiv subsidiary in Astana. Deliveries are scheduled to begin in the first half of 2014.
Russian private freight operator Eurosib is to order 50 TE33A freight locomotives.